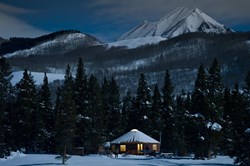 Amazing snow conditions, fantastic travel and airline deals, fewer crowds and an abundance of events make January an ideal time to visit.
Gunnison-Crested Butte, Colorado (PRWEB) December 11, 2013
Amazing snow conditions, fantastic travel and airline deals, fewer crowds and an abundance of events make January an ideal time to visit Gunnison-Crested Butte, Colo. College students have extra time on their hands for a holiday break, and Martin Luther King, Jr. Day on Jan. 20 offers a great chance for everyone to sneak in a three-day weekend getaway.
January Vacation Deals
Stay at The Ruby of Crested Butte bed and breakfast for one night and the second night is only $1. Butte for a Buck is valid Monday through Thursday stays from now until Jan. 31, 2014. Holidays and certain blackout dates apply so call (800) 390-1338.
Three Rivers Resort in nearby Almont has a $66 Stay & Ski Deal per person, per night from Jan. 6 – Feb. 6 and March 24 – April 6, 2014. After a day on the slopes, stay in a cozy lodge room featuring one bed, a futon, full bath and kitchenette. A minimum two-night stay is required, and prices are based on double occupancy. Almont is located 20 minutes south of Crested Butte and is on the free Gunnison Valley RTA bus route. Call (888) 761-3474 to find out more.
From Jan. 5 to Jan. 30, historic Elk Mountain Lodge in Crested Butte is offering a $134 Stay & Ski Deal per person, per night for a queen or twin room. A two-night minimum and double occupancy is required, and a full breakfast daily is included. Upgrade to a king room for only $147.50 per person, per night. To book, call (800) 374-6521.
For all these deals and more, go to http://www.GunnisonCrestedButte.com.
Learn to Ski Month
Crested Butte Mountain Resort is offering a $59 Beginner Ski or Ride Package during Learn to Ski Month in January. The package is available for adults to learn how to ski or snowboard at a 63 percent discount. This package is for first-time skiers and snowboarders, ages 15 and up only and includes an adult first time beginner adventure ski or snowboard lesson and a one-day adult lift ticket valid for limited lift access on the day of the lesson. Visit http://www.skicb.com/learn for more information and to book this package through Liftopia. Another perk is receiving 50 percent off rentals when redeeming the Liftopia voucher at CBMR's Adventure Center.
Crested Butte Nordic Center has Learn to Skate Ski for Free clinics scheduled for Jan. 2, Feb. 6 and March 6 at 1 p.m. Reduced-priced ski rentals are available for participants and 55 kilometers of groomed trails to explore. For details and reservations, call (970) 349-1707 and visit http://www.cbnordic.org.
Fantastic Festivals
Broadcast Music, Inc. (BMI) songwriters and fans have the unique opportunity to share stories, mingle and enjoy great music in intimate settings during the third annual Crested Butte Songwriters Festival on Jan. 17 – 18. The BMI event, offered in partnership with Crested Butte Mountain Resort, Texas Roadhouse and HD Radio, highlights the names and faces of songwriters behind some of today's biggest hit songs. Topping the lineup will be veteran songwriter Dean Dillon along with Rodney Clawson, Thompson Square and Casey Beathard. Fresh from? "American Idol," Kree Harrison will be swapping songs and stories as will Lucie Silvas, Scotty Emerick, Due West, Kendell Marvel, Nicolle Galyon and a host of local songwriters.
Highlights include performances at local nightspots at 6, 8 and 10 p.m. on Jan. 17 and an in-the-round acoustic showcase at Center for the Arts Crested Butte on Jan. 18 at 8 p.m. Proceeds benefit the local Cattlemen's Days Tough Enough to Wear Pink initiative for breast cancer awareness. For details go to http://www.gunnisontetwp.com.
Crested Butte Mountain Resort (CBMR) has added snowmobiling to Gunnison-Crested Butte's mix of annual events. After a last-minute test event last winter on the last weekend of ski season, plans have grown to create a mid-winter snowmobile extravaganza, Roost the Butte, both at the resort and on nearby property. CBMR has teamed up with X-Games snowmobile event organizer Joe Duncan of 357 Consulting to launch the snowmobile competition and festival on Jan. 18 – 20, one week before the Winter X-Games. Four different events with multiple classes for each will be offered: snocross, hillcross, hill drag and snow ovals. In addition, there will be other unique features, vendor displays and a festive atmosphere on the Gold Link area of the mountain. Duncan also will be partnering with CBMR on The Ultimate Snowmobile Event on April 10 – 13. Find out more at http://www.skicb.com/events.
Kenny Mac Ski Fest and Winter Carnival are offering a winter wonderland of events in Gunnison on Jan. 25. Nordic ski races/tours for youth and adults kick off at 9:30 a.m. at Hartman Rocks Multi-Use Recreation Area. Children will race 1.5, 3 and 5 kilometer courses, and adults are challenged to ski one or two 15K loops. There also will be a 3K Snowshoe Rabbit Race at the base of Hartman's starting at 10:30 a.m.
Winter Carnival festivities organized by Gunnison Parks & Recreation will be held in the afternoon at Jorgensen Event Center, where beer, chili and live music will be available. Outside, a one-of-a-kind ski/snowboard jibfest, figure skating expo, hockey skills competition and snowmobiling tubing promise loads of action for competitors and spectators alike. Plus, brave soles can take part in polar bear ice jumping into a 50-degree snow pool. In addition to organizing the ski races, Gunnison Nordic Club has a bonfire planned for 7 p.m. at Jorgensen Park. As the event draws near, details can be found at http://www.gunnisonrec.com and http://www.gunnisonnordic.com.
More Outdoor Fun & Competitions
All levels of skiers can take part in Crested Butte Nordic's Mountain Store Citizen's Series in December and January. Race each of the three weeks in January or only one if desired with Jan. 4, 11 and 18 as the options. Participants must register at the race venue between 8:30 – 9:30 a.m., with kids' races starting at 9:30 a.m. and adult competitions at 10 p.m. Venues are posted at http://www.cbnordic.org on the Monday before each race, and registration costs are $12 for adults and $2 for children under age 12.
The USA Snowboard and Freeskiing Association will stop in Crested Butte once again this year for Rail Jam and Slopestyle competitions on Jan. 11 – 12. Don't miss the action and watch for the details on http://www.skicb.com/events.
At Black Canyon of the Gunnison National Park, located between Gunnison and Montrose, park rangers lead free snowshoe tours at 10 a.m. and 1 p.m. on Saturdays and Sundays from Jan. 18 through March 2 as conditions allow. On these 1.5 mile walks, meander through the oaks, open meadows and along the rim of the canyon. Meet at the South Rim Visitor Center where snowshoes are available to borrow at no charge for these tours. Call (970) 249-1914, ext. 423 or (970) 641-2337, ext. 205 for reservations, times and more information.
On Jan. 31, the eve of the infamous 28th Annual Alley Loop Nordic Marathon, the second annual Alley Loop Pub-Ski and Crested Butte Fat Bike Race kick off the festivities in style. The solo bike race begins at 3:30 p.m., and the team/relay race (teams of two, three or four sharing one bike) launches at shortly after. The Pub-Ski is a 5:30 – 7:30 p.m. pub crawl (on skis) along Elk Avenue either solo or in groups of four. Play a game, do something nutty or answer a trivia question at six of the 10 participating locations to earn points. The true focus of the weekend is on Feb. 1, when Alley Loop, an American Ski Marathon Series race and American Birkebeiner qualifier, starts and finishes on Crested Butte's Elk Avenue and winds through alleyways, streets and trails with course lengths ranging from 1.5 to 42 kilometers, allowing all skill levels and ages to participate (many in costume). Register and find out more at http://www.cbnordic.org.
Full Moon Yurt Dinner & Snowshoeing
During Crested Butte Mountain Resort's Moonlight Snowshoe Tour on Jan. 16, enjoy the thrill of snowshoeing moonlit mountain trails after being transported by a snowcat. Tours start at 7 p.m. and cost $85. For information and reservations, call (970) 349-4554 or visit http://www.skicb.com.
Click into snowshoes or Nordic skis and travel along trails lit by tiki-torches and moonlight to Crested Butte Nordic's Magic Meadows Yurt for a scrumptious five-course dinner. It's an easy one-mile trek each way (guides are available upon request) to the Full Moon Yurt Dinner on Jan. 17 with doors opening at 6 p.m. and dinner served at 6:30 p.m. Local chef Josephine Kellett prepares the culinary goodness with an entrée selection featuring Steak Au Poivre, Encrusted Filet of Salmon, Wild Mushroom Risotto and Paradise Chicken with High Mountain Bacon Jam. The cost is $70 for adults and $35 for children (under age 12) and includes a trail pass and equipment rental; alcohol and gratuity are extra. Visit http://www.cbnordic.org or call (970) 349-1707.
Arts & Culture Extravaganza
Check out the art scene during First Friday Art Walk & Music in Gunnison on Jan. 3 and ArtWalk Evening in Crested Butte on Jan. 30, both from 5 – 8 p.m. For participating galleries, studios and businesses, call Gunnison Gallery at (970) 641-6111 for Gunnison and visit http://www.awearts.org for Crested Butte.
Local professional photographer Raynor Czerwinski is offering an overnight cross-country ski tour and photography workshop on Jan. 3 – 4. Workshops begin with a four-mile ski on moderate terrain to Gothic, where participants stay overnight in the spacious Maroon Cabin. Beginner to advanced photography instruction is offered utilizing incredible subject matter such as the sunset over Gothic's historic buildings, dramatic mountainous scenery and nighttime sky. The adventure is being offered by Art Studio of the Center for the Arts. The cost is $235.
The Art Studio's Ladies Monthly Celebrate & Create night for January is Marvelous Monotype Printmaking. On Jan. 27, artist Ivy Walker teaches participants how to create easy and unique prints on paper from 6 – 8 p.m. The cost is $15.
The Shook Twins, Willy Porter and Head for the Hills will take to the stage at Crested Butte Center for the Arts on Jan. 2, 10 and 25. Concerts start at 8 p.m. and cost $15 to $20 depending if tickets are bought early. Crested Butte Film Festival's monthly film series is featuring "The Crash Reel" on Jan. 16 at 7:00 p.m., with tickets available for $10. For more information about the workshops, performances and film, go to http://www.crestedbuttearts.org.
Gunnison Arts Center's Watercolor and Wine workshop on Jan. 16 combines painting and enjoying wine and good company from 6 – 9 p.m. Registration costs $35. For information, go to http://www.gunnisonartscenter.org.
Vacation Packages & Visitor Information
To save on flights, hotel rooms, vacation packages, car rentals and more, call the Gunnison-Crested Butte Tourism Association reservation hotline at (888) 559-0841 or go to http://book.GunnisonCrestedButte.com. For destination information, call (800) 814-8893 and visit http://www.GunnisonCrestedButte.com.