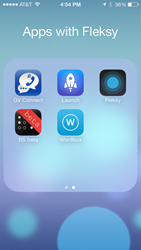 San Francisco (PRWEB) December 12, 2013
Fleksy, the future text input keyboard app, is excited to announce the first group of iOS applications to roll out updates that allow users to select (or download) the Flesky keyboard as their primary option. Using the new Flesky SDK, Wordbox, GV Connect, Launch Center Pro and Blindsquare now offers users a choice of which keyboard to use when engaging with their apps.
With the Fleksy SDK, any developer can now implement an alternative keyboard option in their app, and customers can benefit from a choice in text input technologies. The first four apps with Fleksy released updates today in the App Store and are immediately available to download.
"With Fleksy, we can now provide a unique user experience and powerful artificial intelligence for one of the most important aspects of Launch Center Pro: typing," said David Barnard, founder of Contrast. "Fleksy makes text input easier for our customers, and we are excited to be working with Fleksy on such an innovative solution."
Kosta Eleftheriou, CEO of Fleksy said: "We are excited to be able to innovate in the text input space with our technology, and, for the first time in the keyboard space, provide a product for both major mobile platforms. We are excited to announce our first partnerships today, and for further announcements in the weeks and months to come."
Fleksy's award winning keyboard has had over half a million users on iPhone, iPad and iPod touch and continues to be the most innovative and complete solution on the market.
The Fleksy App can be downloaded on the App Store here. Developers interested in learning more about Fleksy's SDK should contact the company here.
About Fleksy
Fleksy revolutionizes typing on smart devices through patent-pending predictive text technology that works on all device sizes. Fleksy is the first keyboard app to be demonstrated on a 3D gesture system (Leap Motion); the first to be demonstrated on a smartwatch (Omate) and the first to arrive to iOS. Fleksy's award-winning design and technology is backed by venture capital firms including Highland Capital Partners and Kleiner Perkins, Caufield & Byers.
###
Press Contact:
Hadara Alook
hadara(at)fleksy(dot)com
press.fleksy.com