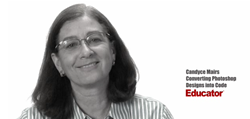 Start creating your dream web page today.
Los Angeles, CA (PRWEB) December 16, 2013
You've worked so hard on your website--hours on Photoshop layering pieces together to create a cohesive and beautiful interface and design for your site. Converting all that design into code like HTML or CSS, however, can be difficult. Educator.com's newest course on Converting Photoshop Designs into Code--without needing any pre-existing knowledge on coding--is a great skill for those who are building their dream website.
Educator.com's professor Candyce Mairs, a longtime certified instructor and expert in Adobe programs for web design, takes you through the steps and techniques of conversion to get your website up and running; learn to efficiently convert graphic designs from any version of Photoshop into a great web page. Professor Mairs will cover the basics from Web Page Design Mockup, Planning Page Layout, and Optimizing Images to Understanding CSS, Customizing Page Structure with CSS, Building the Web Page, and more. At the end of the course, she will cover testing the design in different browsers so it works for all users.
Professor Mairs is an Adobe Certified Instructor and has been teaching since 1994. She holds Expert certifications in several Adobe programs: Acrobat, ColdFusion, Contribute, and Fireworks. In addition, she is also a Certified Internet Webmaster (CIW) Master Designer and Instructor.
Start creating your dream web page today. Learn to craft designs on Adobe Photoshop CS6, and how to style them with CSS with Educator.com. Educator.com offers over 100 courses in academic subjects, AP and SAT test prep, and software training for a small monthly subscription; $1.50/day ($45/month) for the first month, and $35/month afterwards gives a member complete access to every course. Super-saver options are also available at $180/6 months and $300/1 year.
Educator.com is proud to provide today's scholars with advanced digital study materials that meet both their academic and financial needs. New and exciting courses are frequently added. At this time, Educator's Converting Photoshop Designs to Code lessons and accompanying free sample lessons are available for immediate viewing.
###
Educator.com pairs students with the best university professors and educators in the country. Educator's goal is to provide high school, college, and professional students with a variety of academic subjects in an online video format that is affordable, accessible, effective, and comprehensive.
The most effective way to improve education is to have the best teachers teach. With the best instructor in a subject, learning anything is possible. Every student deserves an excellent education regardless of geographic location or socioeconomic status and with Educator.com's affordable pricing everyone can access the site's complete content. For more information about the company please visit the About Us Page.