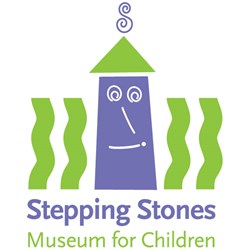 Enjoy the evening while supporting quality educational opportunities for children, their families and caregivers! Step Out is an adults-only event.
Norwalk, CT (PRWEB) December 11, 2013
Mix, mingle and take in some pulsating playoff football action at Stepping Stones Museum for Children during the annual Step Out Wine and Food Tasting event. From 7:00 – 9:30 pm on Saturday, January 11, adults will enjoy an unforgettable evening of fine wines, stellar spirits, magnificent microbrews, fantastic flavors from great local restaurants and music amidst the whimsical backdrop of Stepping Stones. Step Out supports the museum's award-winning exhibits, educational programs and outreach initiatives.
"This is a perfect opportunity to showcase the fabulous space of the Multimedia Gallery and for guests to be able to experience first-hand the amazing exhibits and galleries that are so critical to the museum's mission," said Step Out Chair and Stepping Stones Museum for Children Board Treasurer, Mark Campbell.
Guests attending the event will have the opportunity to tour the museum, purchase the offered wines and bid on fabulous silent auction items. In addition, guests will be blown away by the live playoff football action to be shown on the 35-by-12 screen in the museum's Multimedia Gallery.
Wine, beer and spirits will be provided by Nicholas Roberts Fine Wines in Darien and appetizers, hors d'oeurves and other tasty treats will be donated by local restaurants including The Brewhouse, California Pizza Kitchen, Jordan Caterers, Melting Pot, Palmer's Market, Tinto Bar and Tapas and more. Please check steppingstonesmuseum.org/stepout as Stepping Stones continues to update the site with the restaurant list.
Tickets for Step Out are $40 per person in advance for members, $50 per person in advance for non-members and $65 at the door, space permitting. Tickets are non refundable and a portion is tax-deductible. Guests can register online or call 203-899-0606 ext. 246.
About the Company
Stepping Stones Museum for Children in Norwalk, CT, is an award-winning, private, non-profit 501(c)(3) children's museum committed to broadening and enriching the lives of children and families. Located on five acres in Mathews Park, the LEED Gold certified museum encompasses five hands-on galleries, state-of-the-art Multimedia Gallery, Family and Teacher Resource Center, cafe and retail store.
Stepping Stones is located at 303 West Ave., exit 14N or 15S off I-95 in Norwalk. Museum hours are from 10 a.m. – 5 p.m. Tuesday through Sunday from Labor Day through Memorial Day, and Monday through Sunday from Memorial Day through Labor Day. Admission is $15 for adults and children and $10 for seniors. Children under 1 are free. To learn more, call 203-899-0606 or visit http://www.steppingstonesmuseum.org.