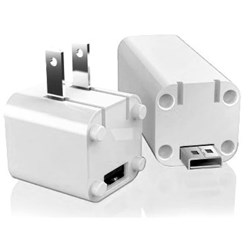 One of a kind DuoCharge Power Bank and AC Adapter/USB Wall Charger from Minisuit
New York City, NY (PRWEB) February 17, 2014
Minisuit, the world's favorite manufacturer of electronic accessories have just introduced an excellent portable battery charger to start the year 2014. The company has an enviable range of user friendly accessories for Smartphones, laptops, cameras, MP3 players, tablets, gaming consoles, etc. This time, they have come up with a one of a kind DuoCharge Power Bank and AC Adapter/USB Wall Charger. This product is unique because it can be plugged directly into a wall outlet to charge the power bank. This portable 2-in-1 portable external battery charger can certainly be of great use while commuting, going to work, or in places like airport.
The portable power bank from Minisuit is compatible with all Tablets and Smartphones including Apple iPhone iPad, Google Nexus, Blackberry, Amazon Kindle Fire HD, Samsung Galaxy S3 S4 Note Tab, ASUS Transformer MeMO Pad, Nokia Lumia, and many more. Some of its most important features include:

This is the most portable external battery in the market. Compact Size: 1.16 x 1.16 x 4.21" inches (29.5mm x 29.5mm x 107mm). Weighs a mere 0.18 pound (80 grams).
LED Light indicator to let users know when the battery is full and ready for use, and when it is time to recharge
Convenient to use: Users can charge up the battery simply by plugging the prongs into a wall outlet or the USB end into a laptop. They can charge their devices later using the USB cable that comes with the phone/tablet.
It is also possible to charge directly from the wall outlet using the phone/tablet USB cable with the AC adapter.
Lightweight and stylish design
The Minisuit DuoCharge Power Bank and AC Adapter/USB Wall Charger has already received encouraging response from the gadget enthusiasts, particularly the younger generation. However, Minisuit expects their new product to remain on the top of the shoppers' wish list regardless of their age. Reacting to the instant success of the company's new portable phone charger, a senior spokesperson from Minisuit said, "We wanted to start the new year by giving something special to people who love their electronic gadgets. However, we have no doubt that there will be a high demand for this product throughout the year and beyond."
About the Company: Minisuit is the largest and the most preferred distributor across the globe for a wide range of electronic accessories. The company has just announced the launch of the new Minisuit DuoCharge Power Bank and AC Adapter/USB Wall Charger.
Contact:
Website: http://www.minisuit.com
Email: steven(at)minisuit(dot)com
Phone: (347) 438-1124
Fax: (917) 210-3987