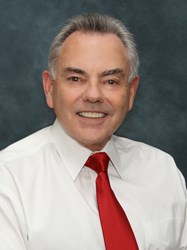 Cumming, GA (PRWEB) December 11, 2013
The Chao Pinhole Gum Rejuvenation Technique is now available at Dr. Page Barden's Cumming, GA periodontal practice. This innovative, minimally invasive procedure enables Dr. Barden to treat patients' receding gums without the pain or recovery time inherent in traditional gum grafting surgery. Dr. Barden is one of only 86 doctors licensed in the world, at present, to perform this surgery, which was developed and patented by Los Angeles dentist Dr. John Chao.
The Chao Pinhole Gum Rejuvenation Technique can usually be completed in 20 minutes to an hour depending on the number of teeth being treated. At the onset of the procedure, Dr. Barden numbs the area with a local anesthetic and creates one or two tiny pinhole sized incisions in the gums surrounding the tooth or teeth being treated. A small dental instrument, specially designed by Dr. Chao, is then inserted into the entry point, allowing Dr. Barden to loosen the gum tissues and move them back to a healthy position. The entry site heals rapidly, so the procedure requires no downtime or recovery period. Any mild swelling that may occur dissipates within a few days. It is most common for patients to take only one or two pain pills post-operatively, if needed, for mild discomfort.
Receding gums can result from age, gum disease, or overly vigorous brushing. Besides increasing sensitivity to hot and cold temperatures, gum recession can dramatically affect the aesthetics of a person's smile, and frankly look old. Prior to The Chao Pinhole Gum Rejuvenation Technique, patients could only resolve the issue by undergoing an invasive gum grafting procedure in which a portion of gum tissue is cut, removed from the palate, and then sutured to the receding areas. The time required for healing of the two surgical sites was at minimum three weeks, and very painful.
To learn more about The Chao Pinhole Surgical Technique and other services at Dr. Barden's Cumming, GA practice, please visit http://www.georgiagumsurgery.com and call (678) 648-1998.
About the Practice
Page Barden, DDS is a dentist offering personalized dental care for Cumming, GA gum disease patients. Dr. Barden received his Bachelor of Arts from University of Denver. He continued his education at the University Of Detroit School Of Dentistry. After serving in the U.S. Air Force, Dr. Barden further extended his education at Indiana University where he earned a degree in Periodontics from the School of Dentistry. He is part of one percent of dental professionals providing the LANAP FDA cleared laser procedure for gum disease treatment. To learn more about Page Barden, DDS and his dental services visit his website at http://www.georgiagumsurgery.com and call (678) 648-1998.