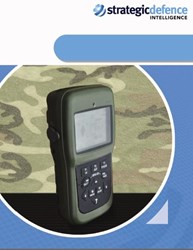 Rockville, MD (PRWEB) December 18, 2013
The Global Military GPS/GNSS Market 2013–2023
The military GPS/GNSS technology is expanding its horizon beyond the basic characteristics of navigation and tracking. The use of GPS, in conjunction with a number of software applications, has expanded its use in military operations. A number of new technologies are now embedded with GPS receivers to produce a more sophisticated military tool. Recently, a Swiss based company developed a device called GPS Log Book based on the U-Blox technology. The new device has extended the scope of GPS technology to the administrative side of military operations. It provides an easy way for military drivers to automatically keep an accurate travel log book which can be securely accessed later from anywhere via a web interface. Information logged includes route, speed, and distance travelled. It also keeps a close record of fuel used by the vehicle, based on the distance travelled at various speed levels.
The advent of another technology called Differential Global Positioning System (DGPS), which is an enhancement to GPS, providing improved location accuracy, from the 15-meter nominal GPS accuracy to approximately 10 cm, has further expanded the scope of GPS in missile technology. The intercontinental Ballistic Missiles which are capable of hitting targets across thousands of miles navigation, using inertial navigation with DGPS receivers. The advent of DGPS is expected to be one of the most significant steps in accurate missile targeting for militaries across regions.
To order this report:
The Global Military GPS/GNSS Market 2013–2023
Contact: Shauna
800.298.5699
customerservice(at)marketresearch(dot)com
Strategic Defence Intelligence
Strategic Defence Intelligence provides a stream of continuously updated customer and competitor intelligence, as well as detailed research reports providing an unrivalled source of global information on the latest developments in the defence industry. Strategic Defence Intelligence's unique monitoring platform tracks global defence activity for over 2,500 companies and 65 product categories in real time and in a highly structured manner, giving a comprehensive and easily-searchable picture of all defence industry activity.
About MarketResearch.com
MarketResearch.com is the leading provider of global market intelligence products and services. With research reports from more than 720 top consulting and advisory firms, MarketResearch.com offers instant online access to the world's most extensive database of expert insights on global industries, companies, products, and trends. Moreover, MarketResearch.com's Research Specialists have in-depth knowledge of the publishers and the various types of reports in their respective industries and are ready to provide research assistance.
Follow us on Facebook http://www.facebook.com/marketresearchdotcom
Follow us on Twitter http://www.twitter.com/marketresearch_
The Global Military GPS/GNSS Market 2013–2023 - Table of Contents:
1 Introduction
2 Executive Summary
3 Global Military GPS/GNSS Market Size and Drivers
4 Industry Trends, Recent Developments and Challenges
5 SWOT Analysis of the Military GPS/GNSS Market
6 Country Analysis – Military GPS/GNSS Market
7 Major GPS/GNSS Devices Programs
7.1 Air-Based GPS/GNSS Devices
7.1.1 Acquisition and sustainment for embedded global positioning system inertial navigation system (EGI)
7.1.2 EGI for the US Navy's F/A-18E/F Super Hornet and EA-18G Growler aircraft
7.2 Land-based GPS/GNSS Devices
7.2.1 GPS Systems – GCVs & IFVs
7.2.2 Advanced GPS Receiver - Multi-Lingual Vehicular MicroDAGR
7.3 GPS/GNSS Precision Guided Munitions
7.3.1 GPS/GNSS Devices for AGM Missiles
7.4 Naval GPS Systems
7.4.1 DDG 51 program
7.4.2 GPS III Satellite Program
8 Competitive Landscape and Strategic Insights