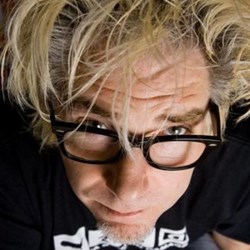 Free event registration and a digital download of Atkins' book, 'Welcome to the Music Business: You're F**ked!' is available at http://www.BrownPaperTickets.com/event/516539.
Seattle, WA (PRWEB) December 11, 2013
Best known for his work in post-punk and industrial bands including Public Image Ltd., Ministry, Nine Inch Nails, Pigface and Killing Joke, drummer, label owner, entrepreneur, producer, world-renowned speaker and author Martin Atkins will present two complimentary workshops on how to advance a career in the music industry Dec. 20 at the Brown Paper Tickets Community Room (Treehouse), 309 N. 36th St. Workshops are hosted by the Brown Paper Tickets Doer Program as part of an ongoing mission to help independent musicians succeed. Event registration and a free digital download of Atkins' book, "Welcome to the Music Business: You're F**ked!" is available at http://www.BrownPaperTickets.com/event/516539.
Atkins wrote the books "Tour:Smart" and the prequel, "Band:Smart," to share everything that anyone in a band needs to know to succeed in the music business on their own terms. Topics range from starting and naming a new band, to recording, packaging, social media, local scenes, event management and more. He has spoken around the world at music industry conferences, universities and nonprofit organizations. His speaking resume includes: SXSW, Warped Tour, CMJ, New Music Seminar, Unconvention, NAMM, By:Larm, Dfest, USC, Drexel, Virginia Commonwealth University, Full Sail, Weiden + Kennedy, Chicago Cultural Center and many more. Atkins has written a new book that will be available in 2014.
Atkins began working on the business side of music in 1988 when he formed Invisible Records and then Mattress Factory Studios in 1996. Over two decades, Invisible Records has released more than 350 albums and has had placements spanning from the original "Miami Vice" to Showtime's "Queer as Folk," to Robert Altman's "The Company."
The material for Atkins's presentations and books comes from almost two decades of performing, touring and recording, both with bands that have packed stadiums and with those who struggled to fill the tiniest of clubs. Through that, he learned rules for musicians trying to make it in the industry. Atkins joined Jonny Rotten's band, Public Image Ltd. (P.I.L.), in 1979. His first contribution was co-writing and performing on the song "Bad Baby" for the "Metal Box" LP. After touring the world with P.I.L., Martin left the group in 1985. Over the next five years, he played with and managed Killing Joke and toured with Ministry. In 1990, while on tour with Ministry, he formed the industrial/experimental band, Pigface, that brought in hundreds of well-known musicians to collaborate and contribute ideas. He also worked with Nine Inch Nails, performing on the Grammy-award winning "Wish" and appearing in the "Head like a Hole" video.
The Brown Paper Tickets Doer Program offers always-free assistance and expertise to build healthy communities across the globe. Billy Geoghegan, the company's "Doer" specializing in the independent music industry, is a professional change-maker, "doing" what it takes to make a positive impact in that community. He draws from decades of experience as an artist, booking agent, tour manager and small-label owner to help artists, labels and venues with copyright, publishing, booking, etc., completely free of charge. Geoghegan's latest project, "Lunch Money," scheduled to launch in spring 2014, will empower teens to create their own micro labels.
For more information about the Doer Program, including profiles on Doers specializing in music, public interest media, the maker community, comedy and roller derby, go to http://community.BrownPaperTickets.com/Doers/index.html.
###
Brown Paper Tickets (http://www.BrownPaperTickets.com), the world's only Not-Just-For-Profit ticketing company, creates stronger communities through events, donations and a business model that prioritizes helping people and supporting community over making profits. The company offers sophisticated ticketing and event registration tools at the lowest fees in the industry, donates 5 percent of its profits to causes in the category of each ticket buyers choice, pays employees a week's salary each year to work for nonprofits, and employs a team of "Doers" to build healthy communities.