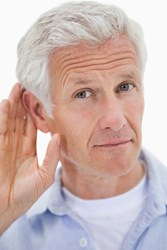 Keeping patients connected through the latest in audiology hearing loss prevention, diagnostics and rehabilitation services are essential when trying to help patients overcome hearing loss and communicate more effectively.
Santa Rosa, California (PRWEB) December 13, 2013
Communication is a circular event. There is a talker, a listener, an environment and a signal or message that flows back and forth between a talker and a listener. The techniques and tips listed below correspond to different aspects of this communication cycle. This article is intended to help the hearing impaired listener become a more active listener and to take a proactive role in the communication cycle. It is also geared toward helping the talker better understand how to help the hearing impaired listener participate in conversation.
Preparing to communicate
TIP 1: Say the person's name or make a motion so the listener is aware that they are being spoken to so they can start to focus on the conversation.
The talker should always get the listener's attention before talking. Before speaking, the talker should make sure the listener is listening and paying attention. All too often the talker will start speaking without taking into consideration the situation of the listener. The listener may not realize that they are being spoken to until it is too late, and will typically wait for the talker to finish and then say, "…what did you say?"
Slow down
TIP 2: Don't rush the conversation
The talker should make an effort to speak at a normal rate or slow down a little. When we speak too quickly the words run together making it difficult for a hearing impaired person to understand and follow what is being said.
How to avoid offending the speaker
TIP 3: Practice good Communication Etiquette.
If the talker is speaking too rapidly, rather than saying, "You speak too fast!" or "You need to slow down!" to avoid offending the speaker explain that you really do want to hear what they have to say, but they need to help you so you can follow the conversation. A good strategy of active listening is to say, "I'm sorry but I have a hearing loss and it is very difficult for me to understand what you are saying. If you speak just a little slower that would really help me out." The talker will very quickly realize that it is to their advantage to do so, and they won't need to repeat themselves.
Maintaining communication
TIP 4: While the talker is speaking, the listener should focus on observing the talker's face.
In addition to picking up on subtle information passed through facial expressions, hand gestures and body position the listener stands a good chance of improving their lip-reading ability by as much as 30 percent. Not only will it help you to hear the conversation but you will also become a more skilled and active listener. When the speaker sees that you are paying attention and focused intently on them then they will understand that you were actively trying to hear what is being said. This technique helps to foster a good communication relationship and it sends a message to the speaker that you care.
Repairing Communication
TIP 5: Ask good questions.
Let's say the talker has been saying something about what a great year it was for apples in Sebastopol, but you missed the point. What you, as a good listener, would do is ask a good question such as, "I heard you say something about apples and Sebastopol but I missed your point."
The reason asking good questions is such a powerful communication tool is because;

It demonstrates to the talker that you were actually listening. By the listener interjecting what they did hear in the question, it is letting the talker know that they were actively listening.
By repeating what was heard back to the talker, it lets the talker know exactly what was heard and this helps when the talker repeats back.
It forces the talker to rephrase things slightly which helps to clarify the speaker's intention.
Exercise your ears and your brain
TIP 6: Listen to music
Research has shown that musicians are better able to pick out voices amid background noise than non-musicians, but it is possible for anyone to learn this process. The music listener's natural inclination is to pay attention to fluctuating of notes, which improves some aspects of hearing and helps to differentiate certain vocal tones from other sounds.
While listening to music also practice lip reading. By practicing lip reading it will help you become a better active listener. As you are focused on the talker they will see you watching them, which will facilitate better communication. It will also help you hear up to 30 percent more and it will help repair communication.
Don't let fear of hearing loss disrupt your social life
TIP 7: Dine Strategically
When dining out, select a seat at the end of a table where there aren't multiple conversations going on that are difficult to follow. Go to the restaurant ahead of time or make reservations and be sure to pick a quiet table that is out of the way of foot traffic, situated in a corner and/or near curtains which naturally absorb sound.
Keeping track of battery life in a hearing aid
TIP 8: Use a calendar to track battery life
The best way to make sure hearing aid batteries are always working is to make a habit to replace the battery every Saturday or every other Saturday (depending on use). Another popular strategy is to take the adhesive tab that covers the battery off and place it on the calendar on the day you put the battery in the hearing aid. This makes it very easy to track how long the battery has been in the hearing aid, and whether or not it is time for a new one.
Consistency is the key to better hearing
TIP 9: Use your hearing aid consistently
We often hear patients say, "I only use my hearing aid when I need it." In order for the brain to retrain after a hearing loss, it needs to relearn the sounds that it has gotten used to not hearing. The key to relearning sound is to utilize the hearing aid consistently. However, if a hearing aid is not fit appropriately that patient will tend to not use it, and that can be a problem in itself.
Hearing aid use is very similar to eyeglass use. Typically, if you do not see well with glasses it does not mean you cannot benefit from glasses. Also, if you do not see well with glasses, it does not mean glasses do not work well. What it most likely means is that you do not have the right prescription. It is the same way with hearing aids.
Given the similarity in manufacturers design, if a patient is not hearing well with a hearing aid it doesn't mean that a patient can't benefit from hearing aids, and it doesn't mean that hearing aids don't work well. What it most likely means is that the hearing aid is not appropriately prescribed for that specific patient's hearing loss and listening needs.
Care for your hearing aid properly
TIP 10: At night when not wearing the hearing aid, leave it out and exposed to the air with the battery door open.
Moisture is the biggest culprit to decreased hearing aid performance. Although hearing aids are treated by the manufacturer to resist moisture, excessive moisture can still build up in hearing aids. Moisture can cause corrosion, excessive battery drain and reduce performance in the hearing aid.
Leaving the hearing aid battery door open at night does two things;
you can visually see that the battery door is open which means that the battery is not engaged saving battery life
it helps to circulate air through the hearing aid which helps keep it dry
The Audiology Associates Lab offers special drying jars that are designed to eliminate moisture in hearing aids when used at night. This adds additional performance, reliability and lifetime stability to a hearing aid. These jars also serve as a reliable place to store hearing aids, to prevent misplacing them and are especially convenient when traveling.
Keeping Patients Connected
Keeping patients connected through the latest in audiology hearing loss prevention, diagnostics and rehabilitation services are essential when trying to help patients overcome hearing loss and communicate more effectively.
Audiology Associates offers comprehensive evaluations as well as an exceptional patient support network. Audiology Associates is Audigy Certified and belongs to an elite group of Audiologists across the country, which possesses the highest credentials and is among the country's most experienced practitioners.
Audiology Associates offers four Bay Area locations. Dr. Peter Marincovich spearheads the practice with a holistic approach that focuses on patient centered care and hearing loss prevention, the latest diagnostics and comprehensive rehabilitation. Having practiced audiology for almost 30 years, Dr. Marincovich and his team provide an exceptional experience by offering comprehensive services to patients in the North Bay. In addition, Dr. Marincovich volunteers his time offering outreach, support programs, hearing screenings and hearing loss prevention services to North Bay communities. Visit Audiology Associates online or call any of the four locations to make an appointment with one of our board-certified audiologists.