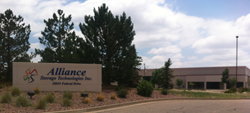 Colorado Springs, CO (PRWEB) December 12, 2013
While 2013 comes to a close, Alliance Storage Technologies, Inc. (ASTI) is highlighted as a company in motion as it prepares to move to new headquarters located in Colorado Springs, CO. As the clearly focused leader in professional data archiving, the data storage manufacturer develops data archiving solutions that enable businesses to reduce risks and maintain compliance with industry regulations while preserving data unaltered over the long-term.
"After purchasing the Plasmon® assets in 2009, our goal was to aggressively move forward to establish ASTI as the continued leader in professional data archiving," explained Chris Carr, CEO. "Now that we have achieved that goal, additional infrastructure is necessary to support our growth as we continue into 2014 with the launch of our new line of archiving solutions."
A Colorado employer to watch, privately held ASTI shines as a small business that has achieved consistent and steady growth even when confronted with a weakened economy. The company's move was motivated by plans to capitalize on a competitive commercial real-estate market and rapid industry growth in the data storage sector.
The new spacious corporate headquarters is located within the Interquest Business Campus in north Colorado Springs at the base of the Rocky Mountains, a highly desirable business location. Located on a 10 acre parcel, the former CD manufacturing plant has been revitalized and remodeled by ASTI in order to accommodate its global operations. Immediate access to I-25 and an additional five acres of surplus land capable of accommodating an additional 50,000 sq ft expansion were just two of the features that attracted ASTI to the facility.
The company reports that the new 51,588 SF facility will provide an immediate 25% increase in floor space, with an additional undeveloped area of up to 35,000 SF for future expansion. The building also features a 15,000 SF manufacturing clean room with a spacious employee cafeteria equipped with a full kitchen in order to accommodate frequent employee gatherings. Employee showers are available for those who take advantage of the many hiking, biking and walking trails situated directly across from the Air Force Academy.
With a history of over 25 years in Colorado Springs, ASTI is increasing their footprint as a U.S. developer and manufacturer of archive storage products. With long-standing contributions to the evolution of the archive storage industry, ASTI is committed to the advancement of professional data archiving. The company plans to hold a ribbon cutting ceremony to which the general press will be invited.
The new facility is located at 10045 Federal Drive, Colorado Springs, CO 80908. ASTI continues to maintain offices internationally.
About Alliance Storage Technologies, Inc.
Alliance Storage Technologies, Inc. (ASTI) is the primary source for professional data archiving solutions worldwide that meet and exceed today's challenging regulatory demands for secure archival data. Professional solutions provide value to any industry including: Healthcare, Finance, Government, Insurance, Legal, and more. These regulatory-compliant systems preserve unaltered data for extended periods (greater than 50 years) at an exceptionally low total cost of ownership.
Scalable product offerings include: Direct and Networked-Attached (DAS/NAS) Plasmon® storage libraries, with Ultra Density Optical (UDO®) as the core technology, related Write-Once-Read-Many (WORM) media, and archive software. Best-in-class global support services are available to sustain customer installations. Additionally, a complete line of certified Plasmon® parts are available. ASTI is committed to providing every customer with exemplary customer service and support from first contact through the life of the relationship. Thousands of businesses worldwide trust ASTI quality to secure their valuable investments in corporate data.
For further information, please visit http://www.alliancestoragetechnologies.com , or call 719-593-7900.