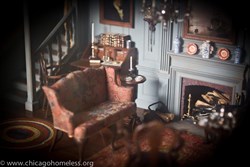 Chicago, IL (PRWEB) December 12, 2013
Miniature artist Henry "Hank" Kupjack has donated one of his works to the Chicago Coalition for the Homeless for charitable auction. This is the first time that a Kupjack miniature room has been at auction, making for a unique opportunity to own one of these highly collectable pieces.
The miniature room, "The New England Parlor - circa 1770," was previously on display for five years at the Naples Museum of Art in Florida.
"The New England Parlor - circa 1770" is currently up for viewing and bidding at the popular website CharityBuzz. Bids on the miniature room will be accepted until close on December 19, 2013 at 3:15 p.m. EST. A direct link to the auction site is listed below.
The proceeds from this auction will kick-off fundraising efforts for an exclusive 2014 charity exhibition of Kupjack miniature rooms. The exhibit will feature an unprecedented collection of 72 rooms by the Kupjack family. The collection will also include works by Mr. Kupjack's late father, Eugene, principle artist of the American Room Series of the Thorne Rooms, on permanent display at the Art Institute of Chicago since 1945.
The 2014 exhibit will feature nine rooms will be on loan from private collections, and 16 rooms on loan from five U.S. museums. None of the rooms have been exhibited locally in more than 25 years. Some of the rooms will debut to the public for the first time during this exhibit. Once again, the Chicago Coalition for the Homeless will be the beneficiary of this charity exhibit.
Henry Kupjack has created several hundred miniature rooms either by himself or in collaboration with his father, Eugene Kupjack, who worked on the Thorne Rooms; one of the most popular attractions at the Art Institute of Chicago and the perpetual standard bearer of miniature room exhibits. Henry's work can be seen in museums and private collections worldwide.
To view the New England Parlor on Charity Buzz -- https://www.charitybuzz.com/catalog_items/447400.
For more info on the artist – http://www.kupjack.com.