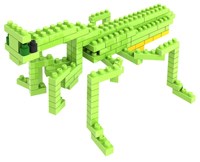 An innovative alternative to large expensive building sets!
Seattle, WA (PRWEB) December 13, 2013
Kaliber Global Toys is excited to announce its partnership with Loz Micro Blocks for the 2013 holiday season.
Loz Micro Blocks are micro-sized building blocks that are an alternative to traditional building block sets. With exclusive designs offered at a fraction of the price of traditional name-brand building block sets, Micro Blocks are the perfect gift for the young builder who enjoys Legos and wants to try something different.
Micro Block sets come in many shapes and sizes. Models include world famous buildings, bridges, space shuttles, animals, instruments, and much more. Some of the most popular sets are the Praying Mantis Model and the British Tower Bridge (see photos below).
Micro Blocks are ideal for children. The building blocks are non-toxic, have rounded corners make, and are designed with a smooth surface specifically for children. Open-ended play opportunities abound with Micro Blocks. More importantly, they help sharpen budding builders' gross and fine motor skills, spatial awareness, and storytelling capabilities. The micro-sized building blocks also act as complex puzzles, inducing cognitive skills during play, and helping to foster increased attention.
ABOUT: Based in the Seattle metro area, KALIBER GLOBAL TOYS was founded in 2012 and offers a wide selection of high quality original remote control toys, games and Micro Blocks. With a passion for innovation and customer satisfaction, the Kaliber team is constantly improving upon its product selection and operations to deliver the best experience to its valued customers.