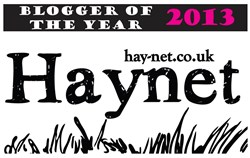 "We are extremely pleased just to be nominated by HayNet, so placing second is huge to us." said, Christy Schulthess
Fredricktown, MO (PRWEB) December 19, 2013
HayNet has just announced the winners of their 2013 Blogger of the Year award and Classic Equine Equipment is pleased to share that their blog has placed second. Blogger Frances Taylor from My Shetland took first place for the second year in a row, and the blog Tales from Provence rounded out the top three finishers. In their announcement HayNet stated that they were very happy about the response to the competition this year and that, "it was a very close run contest with another brilliant blog Classic Equine Equipment coming a very close second."
Classic Equine Equipment's President and COO Christy Schulthess echoed HayNet's satisfaction. "We are extremely pleased just to be nominated by HayNet, so placing second is huge to us. Given the quality of the other bloggers it is a real honor to place so highly and to know that so many people in the equestrian world value our work."
HayNet is a leading social network in the equestrian industry that provides a platform for experts and amateurs of all levels to share their knowledge. The Blogger of the Year competition is held annually with the HayNet admin team first nominating 10 standouts among their many contributors. Nominees are chosen based on the consistency and quality of their blog posts. The winners are then selected by a popular vote, adhering to the idea of community that HayNet was founded upon.
To learn more about Classic Equine Equipment and read the most recent blog posts, please visit: http://www.classic-equine.com
About Classic Equine Equipment
Classic Equine Equipment, Inc. is a leading producer of high-quality stalls, barn equipment and accessories that are custom-made in the USA. Since its founding in 1991, the name Classic Equine Equipment has become synonymous with best-in-class products that are built with the safety of horses and riders in mind. Their equipment has been used in prominent facilities around the world including the Budweiser Clydesdales Breeding Center, Stanford University and the custom facilities of Purina Mills.