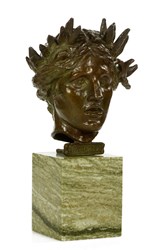 Beverly, MA (PRWEB) December 13, 2013
Kaminski's Annual New Year's Auction will take place this year on December 29th and feature a wide array of fine furniture, art, silver, jewelry and decorative items.
Among a selection of exceptional bronzes from the collection of Hyatt Lemoine is an Augustus Saint-Gaudens (1848-1907) bronze head of Nike-Eirene, estimated at $70,000 to $80,000. The collection also includes bronzes by French artist Alexandre Falguiere with Thibalt Freres foundry marks. Falguiere's sculpture of Diana is estimated at $4,000 to $6,000, while his "Feme au Paon" is estimated at a slightly higher $5,000 to $7,000. The collection also includes pieces from artists Edouard Drouot, Paul Aichele, Emile Pinedo, and Paul Silvestre.
From a local estate in Hamilton, MA comes a collection of American and English period furniture. Highlights from the estate include an English Georgian oak secretary and an 18th century American Federal New England Queen Anne chest. The secretary features a flat top and two doors over a slant lid desk with four drawers and bracket feet. The piece retains its original brasses and is estimated at $1,000 to $2,000. The Queen Anne chest is made from cherry wood with seven drawers, and features a fan carving as well as dovetail and pegged joinery. The chest is valued at $1,500 to $2,500. The collection also includes a seven drawer New Hampshire Queen Anne Dunlap school chest on stand, valued at $1,500 to $2,500.
The highest valued painting in the auction is a work by Edouard Leon Cortes, depicting a Paris street scene from a Chicago, IL estate. The impressionistic painting from the 20th century artist is estimated at $17,000 to $22,000.
Jewelry in in the sale will include a stunning 16.9 carat natural emerald pendant necklace set in 18K gold and framed by a diamond setting and hung from a ribbon of diamonds. The piece is accompanied by a GIA certificate that notes the total 10.14 carats of diamonds. The beautiful necklace is predicted to fetch between $15,000 and $20,000. Other jewelry items in the sale include a pair of diamond hoop earring from Raymond Yard estimated at $9,000 to $10,000 and another pair of Bulgari diamond earrings valued at $5,000 to $6,000.
Fine art collectors will be pleased to see pieces by Canadian born artist Charles Gruppe and 20th century Filipino artist Fernando Amorsolo among the pieces in the sale. The Gruppe painting depicts ships on a stormy sea and is valued at $3,000 to $5,000. The piece from Fernando Amorsolo reflects the master's influential style and depicts a characteristic market place scene. Amorsolo's oil on canvas painting, dated 1939, is estimated to sell for $5,000 to $7,000.
Nautical items in the upcoming sale include a number of ship's clocks, whalebone figures, and models of the "America," "USS Constitution," and "Andrew Jackson." The sale will also present a large and diverse collection of antique rugs.
Preview for the New Year's auction on December 29th will be held: Monday, December 23rd, from 10:00am to 5:00pm, Tuesday December 24th, from 10:00am to 2:00pm, Thursday, December 26th, from 10:00am to 5:00pm, Friday, December 27th, from 10:00am to 5:00pm, Saturday, December 28th, from 10:00am to 5:00pm, and Sunday, December 29th, the day of sale beginning at 8:00am.
Images:
Lot 4142A Augustus Saint-Gaudens, Head of Nike-Eirene, Bronze
Lot 4267 Alexandre Falguiere, Diana, Bronze
Lot 4116 New Hampshire Dunlap School Chest on Stand
Lot 4125 16.9 Carat Natural Emerald Pendant Necklace
KAMINSKI
Kaminski Auctions, located on the North Shore of Boston, has been serving the New England antiques market for over 25 years as a full service auction house and appraisal service for fine art, antiques and estates.
With two locations in Beverly, Massachusetts, including a new state of the art auction gallery located at 117 Elliott Street, and a historic 1850's barn and office facility at 564 Cabot Street, Kaminski Auctions hosts 25 auctions a year.
In today's highly competitive market of fine art and antiques, Kaminski Auctions provides its customers with bicoastal services and marketing with west coast offices in Beverly Hills and San Diego, California.
Kaminski Auctions offers specialty departments in Asian Art and Antiques, Silver, Glass and Lamps, Couture and Vintage Clothing, Photography and Modern Design . We have highly trained and knowledgable appraisers on staff that will help you determine the true value of your antiques, or entire collections. Free Appraisal days are offered every Tuesday from 10:00am-4:30pm at our 564 Cabot Street location in Beverly, Massachusetts & by appointment at our 5171 Santa Fe Street location in San Diego, California. We welcome emailed photos of your items!
Contact consignments(at)kaminskiauctions(dot)com.