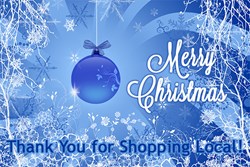 EDDM is a win-win for businesses. They get to maximize the size of their postcards, which gives them more space for images and offers. Plus, they save big on postage costs, which means higher ROI. - Jamie McLennan, Direct Mail Marketing Expert
Los Angeles, CA (PRWEB) December 12, 2013
The holiday shopping season should be the strongest of the year for retailors, and big brands usually dominate the seasonal advertising onslaught. Luckily, small business owners have a secret weapon from the USPS called EDDM. The Every Door Direct Mail (EDDM) program gives brick and mortar stores an effective, low cost print marketing solution to spread the word to everyone in the neighborhood about their Christmas sales and promotions. Since 98% of consumers check their physical mail boxes on a daily basis, EDDM mailers have a huge impact on 4th quarter profits.
Direct mail marketing expert Jamie McLennan explains why EDDM is the best tool for the small biz community: "EDDM is a win-win for businesses. They get to maximize the size of their postcards, which gives them more space for images and offers. Plus, they save big on postage costs, which means higher ROI. They can finally afford to stand out with jumbo sizes because the postage rates for big postcards are still only 16 cents per piece!"
McLennan's clients at the Seibel Group Creative Print Solutions are hooked on EDDM. Results vary by campaign and industry, but McLennan says the response has been positive on all fronts: "My first landscaper EDDM, the company mailed 5000 pieces and won 7 new projects. Not a great return, but those 7 projects turned out to be so profitable that the EDDM sales made their entire Spring season. One project paid for the print, mail and postage 5 times over!"
Unlike traditional direct mail, EDDM caters to the typical small business advertising budget. The retail version lets marketers send as many as 5,000 mailers per day per Post Office for a flat rate of 16 cents per mailer. As long as the mailers meet the USPS guidelines and contain the proper Indicia, there's no need to buy a postage permit. Businesses also save on other overhead costs, including mailing lists and labels. EDDM doesn't require a mailing list because the USPS targeting tools let advertisers select recipients by location according to zip code and postal carrier route. Advertisers looking for more specific prospects may utilize free demographic information about neighborhoods, such as age of residents and approximate household income. EDDM allows for smaller quantities per campaign, so mom and pop shops can test the service without breaking the bank. Small amounts also open up personalization opportunities to send different messages tailored to the buyer's needs or interests.
PrintFirm added EDDM postcard printing and mailing to its list of marketing services in November 2013. The program is already a hit, especially for restaurants in the Los Angeles area. Operations manager Alex Vartanian believes the results speak for themselves: "We ran a holiday EDDM campaign for a local pizza delivery. Our team worked closely with the client on this promotion. We created a custom design for 9" x 12" postcards with a nice coupon offer, and sent them out to targeted neighborhoods in a 5 mile radius. The restaurant received phone calls and more website traffic right away. A lot of the calls were from old customers who forgot the place existed. Now they want to send out mailers every week."
About PrintFirm.com
Printfirm, Inc., trusted leaders in online commercial printing since 1996.