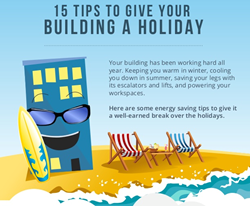 Many office buildings will still be hard at work over the holidays - despite being largely empty.
MELBOURNE, AUSTRALIA (PRWEB) December 13, 2013
Before signing off for the holidays, organisations may want to spare a thought for their hard-working office building, according to energy monitoring software provider Greensense.
Peter Tickler, Greensense Business Development Director, said, "Your office has kept you and your colleagues warm in winter, cooled you in summer, saved your legs with its elevators and powered your workspaces.
"However many office buildings will still be working hard over the holiday period - using lots of energy - despite being largely empty."
To help give them a break, Greensense has teamed up with consultancy firm Arup to offer 15 office energy saving tips to give buildings a holiday.
At a Building level:
1. Check the schedule for the BMS or air-conditioning and lighting controllers to ensure public holidays are correctly set.
2. Consider turning the air conditioning off, or at least raising the temperature at which the cooling operates.
3. If only a few staff are working over the holidays, try to get them to work in the same part of the building, so that only those lighting and air-conditioning zones need to be activated.
4. Ensure time clocks on external lighting have been adjusted for the longer hours of daylight at this time of year.
5. Turn off signs not needed for security or safety.
6. Turn off escalators.
7. Use this time to undertake maintenance that would have been disruptive.
Around the office:
1. Turn off office equipment such as monitors, printers and photocopiers to avoid standby loads.
2. Do you need to run your comms rack?
3. Make sure all supplementary cooling units are off and check with your building manager to ensure time clocks are disabled.
4. Turn off any lighting that is manually switched.
5. Clean out the fridge and turn it off.
6. Turn off your water coolers and vending machines.
7. Turn off domestic hot water units (but allow enough time to bring back up to temperature at the end of the holiday).
8. For the poor guys that have to work, enable them to work from home.
For more office energy saving tips, download the free ebook, "Out of Hours: The Easiest Way to Improve Building Energy Efficiency" from greensense.com.au/out-of-hours.