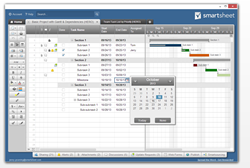 Smartsheet has had an enormous impact on the effectiveness of my team. It's a dream come true! —Jodi Hadsell, Project Manager, SAP
Bellevue, WA (PRWEB) December 12, 2013
Today Smartsheet announced its popular work management tool is available as a Chrome App in the Chrome Web Store, and is featured in the Google Chrome Blog announcement.
As a Chrome App, the spreadsheet-inspired collaboration tool launches from the toolbar in a separate window outside of Chrome, looking and feeling similar to a native mobile app on tablets and smartphones.
"Providing multiple ways to access your work is at the very heart of being productive – and is core to the value Smartsheet delivers," said Mark Mader, CEO and president of Smartsheet. "Many of our customers, especially internationally, use Smartsheet with Chrome to achieve a fast and reliable user experience. With the Chrome App, we're continuing to optimize for the Chrome browser, delivering greater convenience and speed to our customers."
When installed, the Smartsheet app launches directly from the taskbar – outside of Chrome, just like desktop apps – for easy and fast access. Additionally, the app takes center stage without the Chrome tabs, buttons or text boxes, giving users full-screen experience, free from the distractions of the Web.
"It's encouraging to see the Chrome Web Store continue to evolve and feature more business apps," added Mader. "Smartsheet is a great addition for this fast-growing Chrome community as it's a familiar, easy-to-use and highly flexible collaboration tool for coordinating work."
Teams across more than 150 countries use Smartsheet to organize, plan and execute a broad spectrum of projects and processes, including marketing campaigns, product launches, business operations, events, strategic planning and HR initiatives. Smartsheet is deployed in a broad range of customer environments, from large enterprises including HomeAway, DHL, Toshiba, ESPN, Sony Music and MetLife to small and medium-sized organizations such as Eli Lilly Federal Credit Union, Loyola University and Cypress Grove Chevre. For more information, visit http://www.smartsheet.com/customers.
About Smartsheet
Smartsheet, a leading Software as a Service (SaaS) company, offers businesses an intuitive collaboration and work management tool. The ease of use of the familiar spreadsheet-like interface, coupled with file sharing, work automation and Gantt chart features, have made it a popular and highly functional collaboration and project management tool for nearly 2 million users. Customers include construction companies, consulting firms, schools and universities, utility firms, government entities, healthcare organizations, high-tech firms, non-profits, manufacturing and law firms, among others. Additionally, Smartsheet offers mobile apps, pre-built templates and integrations with leading cloud apps such as Box, Dropbox, Salesforce, Google Drive and Zapier to ensure users are up and running quickly. Visit http://www.smartsheet.com for more details.