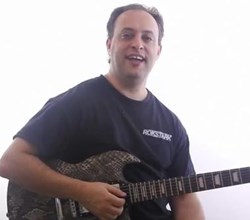 (PRWEB) December 12, 2013
In this guitar lesson, now available on YouTube.com, Claude Johnson teaches some leads and licks using the southern rock scale.
In this rhythm guitar lesson Claude teaches licks from the southern rock scale. Claude explains the southern rock scale as a minor pentatonic scale with a minor 6th (flat 6th tone of the major scale). The example he uses is to play C# minor pentatonic at the 9th fret of the 6th string, which when played over a chord progression in the key of E, you get E pentatonic Major. You can also play the mixolydian mode starting on the 7th fret in this case, B, which is also very common in this style of playing. The lick that Claude uses for the demonstration of adding the flat 6 is what he calls a "very common kind of cliché" is very reminiscent of Ramblin Man by The Allman Brothers Band. The lick starts on the 9th fret of the 4th string; Johnson does a hammer-on to the 11th fret and then moves to the 3rd string and plays the same sequence and then does pull-off's back to the starting note and then he repeats the whole sequence and adds the 9th fret of the 2nd string and does a hammer-on to the 10th fret, flat 6, and does pull-offs back down to the 9th fret of the 3rd string to end the lick. Next Johnson demonstrates the same lick an octave lower starting on the 7th fret of the 6th string; this is where the mixolydian mode starts in this key. Guitar TAB's for this lesson can be found at GuitarControl.com.
Claude Johnson
Claude Johnson, a native of Philadelphia PA, began playing guitar in 1990 after being inspired by players like Jimi Hendrix, Eric Clapton, and Stevie Ray Vaughn. He is the creator of GuitarControl.com and has helped 1000's of people to learn to play the guitar with his critically acclaimed instructional DVD courses, all available at GuitarControl.com.
About GuitarControl.com
GuitarControl.com is the leader in modern guitar instruction. It's packed with recourses including articles, video lessons, and the best videos in the business for the beginner to the advanced guitar student taught by the best instructors out there. Weather you are into the blues, rock, jazz, metal, folk, or anything in between, they have you covered.