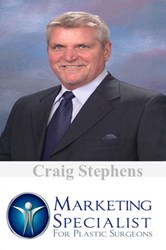 You are a Plastic Surgeon. Let me help you promote your name as a local expert in Plastic Surgery in all the media channels. I'm Craig Stephens, a Plastic Surgeon Marketing Specialist.
(PRWEB) December 17, 2013
Marketing Specialists for Plastic Surgeons, a Florida-based marketing agency, has said that its new contest will be both fun to enter and easy to win. With a maximum entry of 500 contestants, the pool will remain quite small, giving applicants a great chance of winning the procedure.
"When we envisioned the contest, we wanted it to be extremely easy to enter and win," said Craig Stephens, CEO and founder of Marketing Specialists for Plastic Surgeons. "We wanted anyone in the local market of the participating cities to be able to have a chance to win. With the contestant's stories being shared with others, the opportunity to find common ground will be greater than ever."
Stephens has hoped to eliminate any confusion about the contest by explaining to applicants why a surgeon would give away a valuable cosmetic procedure. The answer, he says, has to do with the information that these stories have to offer. They are excellent ways to help surgeons identify new means of relating to their patients.
By requiring that the contestant share his or her story, the surgeons can gather a lot of important insight from "non-customers," a name given to the segment of the local market that believes that a cosmetic procedure could affect their lives significantly, yet has not had it performed for one reason or another.
"Using the contest as a platform to engage these 'non-customers' allows surgeons develop new ways to help prospective patients identify procedures that cost significantly less than they did just a few years ago and are also much less intrusive due to shorter recovery time," said Stephens. "A recent survey revealed the lack of awareness of the general population about new procedures that can allow a cosmetic procedure to be done delivering effective change and without any need to miss a day from work."
In a bid to help both prospective patients learn more about these new procedures, Stephens started the forum talkingplasticsurgery.com. Here, according to Stephens, people can discuss these procedures and find one that is right for them. It is scheduled to launch before year's end.
The contest, which is set to start in early December, will begin in five cities nationwide. The locations are Miami, FL, Houston, TX, Dallas, TX,New York, NY, and Los Angeles, CA. Entry forms are also being taken for Atlanta, GA, Phoenix, AZ, Boston, MA San Diego, CA and Seattle, WA; however, start dates have not been determined for these cities yet. Each city only accepts 500 unique contestants,which is why Stephens is encouraging anyone interested to enter early.
About Marketing Specialists for Plastic Surgeons:
Florida-based Marketing Specialists for Plastic Surgeons is a company directly involved in developing marketing techniques for both the cosmetic and plastic surgery industries. The company is owned and operated by Craig Stephens.
Contest website: http://www.FreePlasticSurgeryContest.com
For further information, please contact Craig Stephens at: replies(at)talkingplasticsurgery(dot)info.