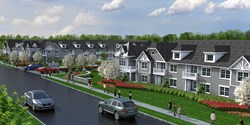 These brand new apartments are perfect for anyone interested in living in an urban, yet historic community. Our growing retail and restaurant businesses will also benefit greatly from the new additions.
Ossining, N.Y. (PRWEB) December 12, 2013
The Village of Ossining's waterfront and Main Street shopping crescent are poised for a transformation as four new residential mixed-use developments take shape, revitalizing the historic Village. Three projects, Avalon Ossining, 147-155 Main Street, and 105-107 Croton Avenue, are currently in the construction phase and a fourth, Harbor Square, is expected to soon follow with final approvals from the Village now in place. Once completed, the developments will offer more than four hundred new rentals units in the Village, from affordable housing to luxury apartments.
The Village of Ossining hopes to attract young professionals and empty nesters alike looking for a combination of affordable living, waterfront views, and convenience with easy access to mass transit and New York City a mere 45 minutes away. Avalon Ossining and Harbor Square are both planned as luxury developments, the later with a full service concierge. Two developments, Avalon Ossining and 147-155 Main Street, have scheduled completion dates in the first half of 2014.
"These brand new apartments are perfect for anyone interested in living in an urban, yet historic community," said Ingrid Richards, the Village's Manager of Downtown and Economic Development. "We are very excited to see these developments progress. Our growing retail and restaurant businesses will also benefit greatly from the new additions."
Earlier this year, the Stagg Group, a Westchester-based developer, purchased the Village-owned property at 147-155 Main Street. The parcel, known as the "We Can Do It" lot, has been vacant for over fifteen years following a devastating fire. Construction is now underway for a five story mixed-use building containing 31 apartments, 1,202 square feet of retail space, and 3,185 of restaurant space. The new brick and masonry building will blend with the Village's existing historic architecture and is expected to be move-in ready by April or May 2014.
"The redevelopment of this parcel represents another milestone of success for the Village of Ossining," said Mayor William R. Hanauer. "It will complete the historic Main Street shopping crescent and represents yet another forward step in the renaissance of the Village and the rejuvenation of its downtown."
Also in the construction phase, 105-107 Croton Avenue will feature 14 rental units as well as 2,700 square feet of retail space.
"Those living in the Stagg building will have market rate and affordable quarters with the convenience of contemporary living in our historic downtown, across the street from the farmers market and within walking distance to the Ossining Station. New Croton Avenue tenants will have more reasonably priced units, convenient to excellent shopping, as well as three of our excellent schools," Hanauer noted.
Owned and operated by AvalonBay Communities Inc, Avalon Ossining will offer 168 brand-new luxury apartments for lease starting in February 2014. Located at 217 N. Highland Avenue on the site of an old office building now demolished, the new smoke-free community will feature one, two and three bedroom apartment homes with amenities ranging from large contemporary kitchens and energy efficient appliances to private balconies with stunning views of the Hudson River.
Avalon residents will have access to a state-of-the-art fitness center, outdoor swimming pool, clubhouse, children's playground and WiFi Café. The community is one mile from the Ossining Metro-North Railroad Station and within walking distance to nature trails and hiking along the Crawbuckie Nature Preserve.
"Ossining has always been home to people of all economic abilities. To guarantee that we continue to provide affordable housing, the Board of Trustees passed a policy in 2006, then codified and enacted that policy in 2009, mandating that all development of six units or more provide that 10% of the units be affordable as defined by the State," said Hanauer. "What the Village has always lacked, however, is luxury rental apartments. With the construction of Avalon and Harbor Square, people with significant disposable income will have luxury apartments with spectacular river views, with some affordable units among them."
Ginsburg Development Companies, LLC received final approval from the Village of Ossining's Board of Trustees earlier this month for Harbor Square, a 188-unit luxury rental community on the Hudson River waterfront. Located on Westerly Road, across the street from the train station and adjacent to the historic Main Street business district, Harbor Square will offer apartments ranging in size from studios to three bedrooms, many with balconies. Additional amenities include a rooftop fitness center, spa and swimming pool. Currently scheduled to open in the spring of 2015, Harbor Square's 4.5-acre site will also feature a new restaurant and waterfront park.
"All four of these residences will have attendant commercial space, which together will accomplish our goal of spreading the tax base," said Hanauer.
For more information on downtown and economic development in the Village of Ossining, please contact the Village Manager's Office at 914-941-3554 or visit http://www.villageofossining.org.
About the Village of Ossining
On April 2, 1813, the Village of Ossining became the first incorporated village in Westchester County to be state-chartered. Today, Ossining is a culturally diverse, affordable place to live, rich in both history and natural beauty. Approximately 25,600 people reside in the three and one half square miles of this historic Village on the Hudson River, which boasts extensive shopping, recreational programs, educational enrichment opportunities, and excellent municipal services. Ossining's role in New York's heritage has been recognized by its inclusion, as one of only 14 areas, in an Urban Cultural Park System designed to attract visitors to the State. With its Bicentennial anniversary in 2013, the Village of Ossining has launched "Ossining in 3D," a yearlong celebration of events designed to honor the Village's past while embracing its future. Visit http://www.villageofossining.org for more information.