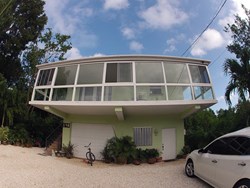 If you don't have a patio to convert, look around your home and you often can find space that's simply begging to be captured and put to new use as a sunroom.
Miami, FL (PRWEB) December 12, 2013
It was a house that many owners would have thought was too small for an aluminum sunroom addition, says Chris Noe, president of Venetian Builders, Inc., Miami.
The lot was small, and the front of the lot was taken by much-needed parking space for a family that, like so many others, has multiple vehicles.
But today, that house has a fully enclosed, climate-controlled sunroom. The solution was conversion of a sturdy balcony that extended across the second story at the front of the home. The balcony became the sunroom.
Venetian designs and builds aluminum-framed space solutions for homeowners in all South Florida communities, including West Palm Beach, Fort Lauderdale, Hollywood, Miami, Coral Springs and the Keys. It installs sun rooms, patio covers and roofs, and screen pool enclosures, plus insulated patio roofs, aluminum pergolas, retractable canvas awnings and aluminum lattice for privacy.
"The conversion actually wasn't complicated to design and engineer," Noe says of the balcony. "The balcony already had a sound concrete floor and a roof. All that had to be done was remove the old posts and rails and replace them with a strong aluminum frame and windows. Some of the windows open to screens, so the balcony retained its open-air qualities."
It made for an economical – and unanticipated – home expansion, Noe says.
"If you don't have a patio to convert, look around your home and you often can find space that's simply begging to be captured and put to new use as a sunroom," Noe says. He gives these tips on where to find the space:
Porches: "Porches are a design element not much employed in today's homes," Noe says. "If you have one that's sound, a conversion may be possible. If you have one that's not sound, you'll have to make repairs or replace it anyway, so why not make the space a Florida room for year-round, all-weather use?"
Balconies: "Balconies can be quite a comfort, allowing for outdoor access from a second-floor room, sometimes a dining room or a bedroom," Noe says. "But if they're open-air, comfort may be limited because of insects and limited shelter from the rain. If the floor and roof are sound, a balcony conversion is simple. If they are not, the space can be captured and converted, with a totally new structure added to the original home."
Decks: "They're certainly not as plentiful as patios in Florida, but some houses do have sizable decks," Noe says. "As with an open patio, enjoyment of a deck can be limited. A sunroom conversion, or a solarium that uses the space occupied by the deck, can add benefits – including all-weather, all-hours use."
Garages: "Without basements or snow, garages on smaller homes in Florida often end up as storage spaces," Noe says. "But with a well-planned conversion, the garage can become a sizable sunroom and a smaller but organized storage unit that holds plenty. Windows can be added, of course, and skylights."
Storage nooks: "If you have an under-roof storage area off the patio, think about turning it into a sunroom," Noe says. "Enlarging it may help. And you can create an organized storage area, which is the least expensive space you can add to your home."
Venetian Builders gives detailed, free estimates on aluminum sunroom additions, patio covers, screen swimming pool enclosures and its shade and privacy products. No-cost at-home consultations include access to the Venetian mobile showroom, which is brought right to the homeowner's curb or driveway.
For more information call 866-596-2427.