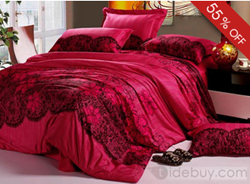 HK, China (PRWEB) December 13, 2013
Tidebuy, an international e-commerce business on December 2013, announced their discount package for their clients; from the beginning of December all through to the end of the month of December, Tidebuy is going to be having up to 90% discount on all their items on sale.
This offer is a Christmas gift for its faithful customers and new customers. Most of the products are free shipping. The bedding sets have a discount of 75% off the original prices plus free shipping. This offers comes right in time when everyone is looking for that Christmas gift and also wants to save up on spending. Getting a gift now has never been easier and customers can shop all they want.
Orders for the purchase of their goods are made online on their site. The goods include formal dresses that are on 80% off, party dresses at 85% off, other dresses range from 50% off to 80% off depending on the dress. Jewelries are at 65% off and intimate apparels are at 80% off. All the other products also have a varied discount and so one has to check against the product to know just how much they are saving up.
These are then paid for through credit cards, visa cards, master cards, PayPal and western union. After payments are made the goods are then shipped to your location from the address provided through DHL and EMS. The delivery time with DHL is 2-4 working days. Online order tracking is also available if one wishes to make a follow up on their purchase. There is a return policy for the good and one has to ensure the tags are still intact.
Tidebuy International Limited is a Hong Kong based international e-commerce business. It conducts its business online through their website. The company has a large market all over Asia, Australia, Europe and America. They have a variety of merchandise that they deal with. This includes dresses, beddings, jewelry and accessories, Home and Garden, Beauty products, Special Occasion Dresses, wedding apparels, hair extensions and wigs and shoes. They also have the possibility of having custom made items.