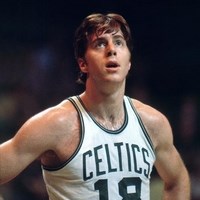 I believe surrounding yourself with the right people is the key to success in business. - Dave Cowens
Lincoln, NE (PRWEB) December 13, 2013
The Total Education Celebrity Show and Simply G Media Network today announced the release of a recent interview with NBA Hall of Famer and Boston Celtics legend Dave Cowens, discussing his new book, "There Are No Do-Overs: The Big Red Factors For Sustaining a Business Long-Term." Cowens explained how sports and business go hand-in-hand to Total Tutor host Neil Haley and co-host & entrepreneur GJ Reynolds.
Known for his tenacity and work ethic as a mainstay of the Boston Celtics in the 1970s, leading the team to NBA Championships in 1974 and 1976, Cowens earned a berth in the Basketball Hall of Fame in 1991. Now, with his new book, he is helping teams and businesses find sustained success, long term.
In the interview, Cowens talks about There Are No Do-overs, and explained how the book came to be with co-author Tom Raffio, President & CEO of Northeast Delta Dental. In the book, Raffio combines business leadership principles with stories from Cowens time as a coach and player.
"It is really interesting to see the relationship between business and sports," said host Haley. "They are both competitions where the hardest workers reap the rewards."
Cowens revealed keys to how players grow as individuals and to how successful teams draft so well.
"This book is a how to book on how to run your business or family," said Cowens. "(Growth) is what makes successful teams and businesses different."
In addition, Cowens' also addressed recruitment and how to recruit team players who fit what you're trying to accomplish. "I believe surrounding yourself with the right people is one of the keys to success in business."
Cowens says it's essential in business and in sports to have a good working environment. Other topics discussed include customer service, the importance of relationships, how to work through adversity and more.
"You only get a few big opportunities in your life," said Reynolds, an entrepreneur himself. "You need to jump on that opportunity or you could miss out on your big break."
Reynolds continued, "Leaders are people who you are able to count on and are approachable." Dave puts the team first versus on himself or any one person. Dave was able to highlight this fact in this interview."
You are able to listen to the interview now by clicking here: http://beachlifestyle.com/beachlifestyle-radio-show-nba-hall-famer-dave-cowens/#.UqlFWY2oWkI.
You can find out how to Purchase Cowens' book by clicking here. http://www.amazon.com/There-Are-Do-Overs-Sustaining-Long-Term-ebook/dp/B00G9IVENY.