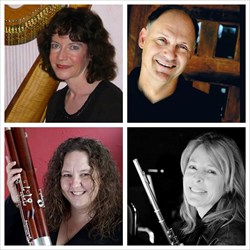 Tucson, AZ (PRWEB) December 12, 2013
Monday, December 16th, Maker House will ring with the sounds of a three piece chamber ensemble in the historic Corona Room.
The Church of Beethoven is a unique performance format, featuring an hour of music drawn from the classical and other repertoire, the spoken word art of poetry, short talks and compositional readings, and a two minute "Celebration of Silence."
A Church of Beethoven performance provides both listener and artist an informal stage to enjoy and consider works of music and language arts in an intimate and accessible way. It is a community builder around the arts dedicated to breaking down that "Fourth Wall" of spatial and formality-driven distance between performer and audience.
Imported to Tucson by local bassoonist and chamber musician Cassandra Bendickson, this unique series was begun in Albuquerque, NM in 2008 by classical cellist, Felix Wurman. From the humble beginnings of an old gas station off US Route 66, his vision has grown to include branches in Durham, North Carolina, Oak Park, Illinois, and now Tucson, Arizona.
Church of Beethoven Tucson is housed out of the newly renovated Maker House at the Historic bates Mansion (formerly the Mountain Oyster Club) in downtown Tucson. Enjoy a coffee, or other more potent beverage, and bask in the local arts of music, spoken word, a wee bit o' silence, and the visual brilliance of the artists of Maker House.
The performance will take place Monday, December 16th at 7:00 PM. Seating is limited and begins at 6:30 PM. Tickets are $10, and can be purchased at http://www.eventbrite.com/e/chamber-music-spoken-word-concert-tickets-9043626731.