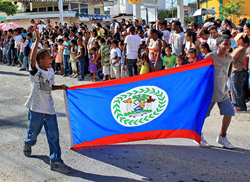 "Given the chance between a job and crime, most Belizeans will take the job. And that's what we're seeing happen now,"
San Ignacio, Belize (PRWEB) December 14, 2013
Recent news of a continued, dramatic downturn in crime is one more sign that the relatively new nation of Belize is maturing into a sophisticated travel destination with a high quality of life for its citizens and greater security for visitors, according to the owners of The Lodge at Chaa Creek.
And Lucy Fleming, who founded the popular resort in 1981 with her husband Mick, the same year Belize achieved independence from Great Britain, said that the burgeoning eco-tourism industry has contributed to the reduction in crime.
"Eco tourism is providing employment and opportunities for an ever growing number of Belizeans, and we're seeing more young people entering the hospitality industry or furthering their education in order to take advantage of the growing number of jobs.
"This all adds up to hope, employment and better prospects for the future; all deterrents to crime. It's all very encouraging," she said.
Ms Fleming said that while crime was never a major problem in the Cayo district, where Chaa Creek is located, Belize City once had a reputation for criminality, mostly between gang members but also affecting the general populace.
However, according to a December 10, 2013 report on 7 News Belize, the murder rate in Belize City has been halved since this time December of last year, and other crimes are down as well.
The report quotes ACP Miguel Segura as emphasising that the crime reduction is the result of a multifaceted approach. "The contribution of crime (reduction) is not only from the police aspect, the contribution comes from everyone… when you look at job employment, media houses, parents, NGOs - everybody putting in their piece," he said.
Chaa Creek's Safety and Security Manager, Emil Bradley, a former police officer himself, said he agrees with that assessment, as well as Ms Fleming's linking the rise of eco-tourism with the decline in crime.
"In my years of law enforcement I've come to believe that people are good, and one of the things driving crime anywhere is a lack of opportunities, especially for young people. Belizeans are basically happy and industrious, and when they have meaningful employment and an outlet for their energies, they are going to stay away from criminal activity.
"Or in other words, given the chance between a job and crime, most Belizeans will take the job. And that's what we're seeing happen now," Mr Bradley said.
Another August 21 7 News Belize report quoted the then just-released midyear figures indicating that up to the end of July 2013, major crimes were down by 12.7%, robbery by a 43% and murder down by 23.8% - compared to the same period in 2012. That report quoted Commissioner of Police Allen Whylie - as saying, " I think we've been doing a stellar effort in terms of the containments and the crime fighting efforts."
Mr Bradley said that he and his colleagues in law enforcement and security expect that this trend will continue.
"At Chaa Creek, of course, life is always pretty tranquil, as we're in the midst of a private 365 acre nature reserve with a wide range of activities, a large staff and security team, so we're not affected by outside events that much, and the situation is similar with our sister resorts on the Caribbean Coast, Belize Great Barrier Reef and cayes.
"However, obviously what's good for the rest of Belize is good for us, and it great to hear that things keep getting better. We're moving in the right direction," he said.
Ms Fleming concurred.
"One of the tenets, and benefits, of eco-tourism is contributing to the natural and social betterment of the country, and Chaa Creek is not alone in this. We know that our Chaa Creek Cares program and the fact that 10% of all accommodation revenue goes straight back into environmental and social programs is having a positive effect, and we're by no means the only eco resort with this ethos.
"So when the main income generator of a nation is actually built around improving the environment and social conditions it's definitely a win-win situation, and I think reduction in crime is one aspect of this. As they say, idle hands are the devil's workshop, and our growing eco-tourism industry with its many spin-offs is keeping people happily busy.
"I think all Belizeans are happy with the way Belize is maturing as a nation," she added.
The Lodge at Chaa Creek is an award winning eco resort set within a 365 acre private nature reserve in Belize.