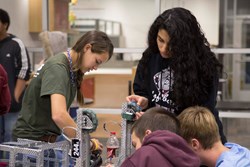 This weekend's League Championship is a great example of our public schools drawing kids into extracurricular activities that broaden and enrich their learning experience. - Mr. Mike Evele, Physics Teacher, Grandville High School
Grandville, MI (PRWEB) December 12, 2013
The West Michigan VEX Robotics League will cap its 2013 season with the League Championship this Saturday, December 14th, at Grandville Public School's Robotics & Engineering Center. The West Michigan VEX Robotics League, in its second year, is one of the first leagues in the country to successfully build inter-school robotics competition within a structure much like competitive high school sports. More than 500 students, parents, and spectators are expected to attend Saturday's league finale.
The West Michigan VEX League was formed last year as one of the first VEX Robotics leagues in the country. Twenty four teams from six schools participated last year. This year, the League has grown to more than 36 teams from twelve West Michigan schools. Teams play in Northern and Southern Districts, with Northern District tournaments hosted by Traverse City Public Schools and Southern District events hosted by Grandville Public Schools. League teams have played in six to eight invitational events from October through early December, with qualifying teams advancing to the League Championship this Saturday. The top teams in League play and the winners of the League Championship will advance to the Michigan VEX Championship held at Michigan State University in February.
This Championship will be the largest robotics competition held to date at Grandville's Robotics & Engineering Center. This Center, formerly Orion High School, is home to fifty-one competitive robotics teams from Grandville's high school, middle school, and elementary schools.
The VEX Robotics Competition serves as a vehicle for students to develop critical life skills such as teamwork, leadership and project management, honed through building robots and competing with like-minded students from the community in a pulse-pounding, exciting, non-traditional environment. The VEX Robotics Design System was built from the ground up and designed to be an affordable, accessible and scalable platform used to teach science, technology, engineering and math education worldwide. The Grandville High School RoboDawgs founded the West Michigan VEX League last year, and have helped to get VEX Robotics teams started at more than two dozen schools in the United States and Canada. VEX Robotics is the largest High School and Middle School robotics program in the world, with more teams than FIRST Robotics, FIRST Tech Challenge, Best Robotics, and Botball combined.
The Grandville High School RoboDawgs are one of the United States' largest and most accomplished high school robotics teams. Grandville Public Schools has been a leader in educational robotics for more than 16 years. Beginning with one high school robotics team in 1998, the district's program has now grown to include more than 50 teams based at the District's Robotics & Engineering Center. More than 500 students, from fourth through twelfth grades, participate on Grandville robotics teams, designing, building, and programming robotics for competitions around the world. Grandville has the first Jr Lego League program in a West Michigan school district, fielding six teams of 2nd and 3rd graders. The District has one of largest Lego League programs in the country, with the District fielding 19 elementary teams this year. These students go on to compete in the District's VEX Robotics program at the middle school level, as well as the FIRST Robotics competition and the Great American River Race at the high school level.