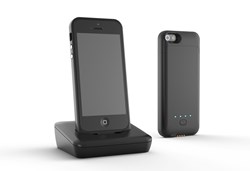 Toronto, ON (PRWEB) December 17, 2013
The Spyder PowerShadow i5d is the world's only iPhone battery case equipped with its own docking station for easy drop-in charging and direct-wired data sync. Currently the most compact and lightweight 2100 mAh battery case ever created for the iPhone 5/5s, the i5d packs incredible features inside its tough, polycarbonate shell. A variety of charging/syncing options offer unsurpassed convenience, flexibility and ease of use, none of which require removal of the iPhone from the i5d case. Most popular battery cases can only sync data wirelessly, a feature built in to the iPhone itself. The i5d offers far more convenience, speed, efficiency and reliability by automatically backing up directly via USB to your Mac or PC when you dock to recharge. This feature also allows the PowerShadow i5d to function when connected to iPhone-enabled car stereo systems by plugging directly into the case's own mini USB port. Finally, the i5d features not one but two safety chips inside to protect against the battery damage that occurs from overheating and overcharging. The i5d is certified "Made For iPhone" by Apple. What does all this boil down to for iPhone users? …about double the run time on your iPhone, better protection and unparalleled convenience. The i5d not only enhances the iPhone, it enhances the iPhone experience.
"I'm proud to say that Spyder Digital Research has once again raised the bar for the iPhone battery case," said Michael Nitti, president of Spyder. "Our relentless focus on innovation, quality, features and value for the iPhone user has produced another outstanding product to follow up on the overwhelming success of our iPhone 4 docking battery case, quickly becoming the standard for pro users. "
Spyder's i5d has an MSRP of $99.99 and is available at http://www.spyderstyle.com, as well as Best Buy, Amazon, Walmart and other fine retailers nationwide. More details on their forthcoming innovations, including retail availability and pricing, will be announced soon. In the meantime, please feel free to learn more about Spyder's superior accessory solutions at http://www.spyderstyle.com.
Spyder Digital Research, is a fresh, fierce young company on a mission to raise the bar on mobile accessories while being accountable to their global community. Technology is changing at a blistering pace. While this is creating wonderful new opportunities, it is also creating new challenges. With a focus on creative innovation, ergonomic human interface and fresh, exciting industrial design, Spyder's diverse and growing product line-up will empower users with new, lifestyle-enhancing features every day. Spyder believes corporations are accountable to their global community and as such actively participates in programs that give back as much as possible to the disadvantaged and those in need. For more information about Spyder's cutting-edge technologies and global community programs, please visit http://www.spyderstyle.com.