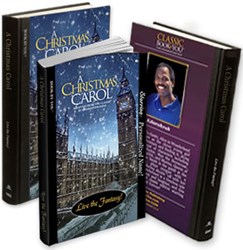 Now anyone can step into a personalized edition of their favorite classic book starring alongside family and friends
(PRWEB) December 12, 2013
Book By You, the leading publisher of personalized books, offers the personalized edition of Charles Dickens' timeless holiday classic, A Christmas Carol—a book that belongs at the top of everyone's holiday list. Step into the shoes of the famous curmudgeon, Ebenezer Scrooge, his faithful, hard-working clerk, Bob Cratchit, or any of five other personalize-able characters. This wonderful classic will fill even the Scroogy-ist Scrooge with the Christmas Spirit as the story follows Scrooge's journey through Christmases past, present, and future, and teaches him a valuable lesson about kindness, charity, and the true meaning of Christmas.
This classic 1843 novella starts when miserly Ebenezer Scrooge (the personalized lead character) treats Christmas as just another day to earn money, mistreat his poor clerk, Bob Cratchit, and show callous disregard for those in need. He even resents his nephew's good natured holiday wishes, famously calling Christmas a "humbug!" On Christmas Eve, the old miser gets a ghostly visit from his late business partner, warning him that he has only one chance to change his ways. Even then, Scrooge refuses to learn. Then the true journey begins: the spirits of Christmases Past, Present, and Future each arrive to take our personalized 'hero' on a trip through his life: how it was, is, and might soon be. Can Scrooge mend his ways before it's too late?
A Christmas Carol's emotional depth, brilliant narration and endearing characters, offer plenty of rewards for Dickensian fans, readers of all ages, and everyone who wants to keep the holiday living in their hearts all year. Alongside Book By You's other amazing personalized classics, A Christmas Carol features a unique dedication, a personalized photo option for the back cover, and is available in either paperback, hardcover or personalized eBook editions.
It doesn't have to be all Scrooge and bah humbug this holiday season. Book By You has over sixty personalized novels – something for everyone on the list. Co-workers can be hunting vampires in Transylvania in personalized editions of Dracula, Vampire Kisses and First Bite (for teens), family members can star in Treasure Island, Peter Pan or Robin Hood, or what about a best friend starring alongside her own Mr. Darcy in Pride and Prejudice, one of the best-loved romances of all time.
To purchase a personalized classic, lovers of the classics (and the holiday season) go to the company's website at BookByYou.com and complete a character questionnaire specifying the information to be included in their book. The company offers a free demonstration area where readers can preview personalized excerpts from any of the company's teen, romance, mystery or children's personalized books.
BookByYou.com has received national media coverage and has been featured on ABC's The View, CNN, Fox News, The Wall Street Journal, Jimmy Kimmel Live and many additional media outlets.
BookByYou.com is an interactive publishing company and the world's largest provider of personalized novels. Media interviews, promotions and give-aways are available upon request. Please contact Michael Pocock at 1-877-898-1440 or publish(at)BookByYou(dot)com.