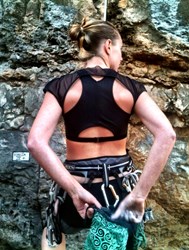 89% of women stating they would like to have a professional fitting to find a properly fit swimsuit.
Galveston, TX (PRWEB) December 12, 2013
Fluid Sunwear launched a new video earlier today uncovering the truth on size and why women don't fit into their swimsuits. Watch the video here.
Every year women become frustrated because their swimwear doesn't fit properly, pointing the finger at their bodies as being too fat, too hippy, too busty; the list goes on. Fluid Sunwear wants to shatter this barrage of unrealistic expectations for our bodies and help them to realize clothing development is based on fitting one person to the garment and grading each design to larger sizes using mathematical algorithms that are not standard to any specific brand, industry or clothing type.
Women blame themselves for clothing fit problems because most women don't realize there is a simple reason for this problem. 65% of women struggle to find a swimsuit that flatters their bodies (ShopSmart, 2011); 84% wear the wrong size bathing suit (Derma Health, 2010), leading to 89% of women stating they would like to have a professional fitting to find a properly fit swimsuit.
Fluid offers women the opportunity to easily find a swimsuit that is molded to each body, fitting every curve flawlessly, as well as, ensuring that their measuring experience is as easy as possible. Fluid's website was created to offer a pleasant shopping experience to shoppers, offering women access to Made-to-Measure clothing, regardless of their location on a map, as well as a full service measuring tutorial. This tutorial stores a helpful variety of videos and user-friendly how-tos helping clients obtain their most accurate measurements for their custom made suit. Women may also contact Fluid to set up a video based fit session, working directly with our designers, individually, to ensure fit from the privacy and comfort of their own homes.
Both of Fluid's websites, mobile and full site, allow clients to modify and store body measurements online; giving women access to their body measurements from anywhere via its mobile site.
For more information please visit: http://www.fluidsunwear.com.
Watch the "Whats Wrong with My Body?" - Revealing the Truth
About Fluid Sunwear
Established in 2013, Fluid Sunwear is a clothing line specializing in women's made-to-measure luxury swimwear and ready-to-wear designer sunwear. Fluid takes luxury swimwear to the next level offering women indulgent style, pure extravagance and timeless beauty, an experience not currently available through any other swimwear line. For more information, contact Fluid Sunwear via e-mail at info(at)fluidsunwear(dot)com, or telephone number: 409.974.7017.