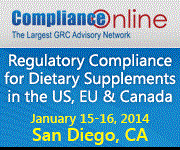 Get trained on Dietary Supplements Regulations by Regulatory Affairs expert James Russell in San Diego, CA.
Palo Alto, CA, USA (PRWEB) December 14, 2013
ComplianceOnline, the leading governance, risk and compliance advisory network with over 500 experts in various regulatory subjects, today announced a seminar on Regulatory Compliance for Dietary Supplements in the US, EU and Canada. The two day seminar led by regulatory affairs expert James Russell will be held on January 15 and 16, 2014 in San Diego, CA.
This seminar will focus on the American, Canadian and European regulatory requirements for the dietary supplements and cover topics such as acceptable marketing claims and labeling requirements.
For more information or to register for the seminar, please click here.
Seminar instructor James Russell has over 13 years of experience in the life science field, encompassing foods, dietary supplements, pharmaceuticals and medical devices. Mr. Russell is the Director of Business Development and Regulatory Affairs for RJR Consulting Inc., a leading global regulatory consulting firm servicing the life science and consumer products industries. He teaches a variety of regulatory topics and is a participating member of the Regulatory Affairs Professionals Society (RAPS).
During the two day interactive seminar, Mr. Russell will focus on the regulatory requirements for the dietary supplements in the US, EU and Canada. Attendees will learn how to verify that products are compliant with these regulations. He will also discuss the differences in food and drug regulations in these countries. This seminar will also cover what qualifies as a dietary supplement or dietary ingredient as well as detailed requirements for labeling and acceptable marketing claims.
This seminar is designed for quality assurance managers, quality control managers and regulatory compliance professionals in the supplements or natural products area. Distributors, manufacturers and sales/marketing personnel wishing to successfully market dietary supplements in compliance with US, EU and Canadian regulations will greatly benefit from attending this seminar.
Date: Wednesday, January 15 (8.30 AM- 5.00PM) and Thursday, January 16, 2014 (8.30AM- 4.30PM)
Location: San Diego, CA
Registration Cost: $1,299.00 per registration
Early bird discounts: For discounts on early registrations, please click here.
Register by phone: Please call our customer service specialists at +1-650-620-3937 or email to customercare(at)complianceonline(dot)com
For more information on ComplianceOnline or to browse through our trainings, please visit our website.
About ComplianceOnline
ComplianceOnline is a leading provider of regulatory compliance trainings for companies and professionals in regulated industries. ComplianceOnline has successfully trained over 35,000 professionals from 9,000 companies to comply with the requirements of regulatory agencies. ComplianceOnline is headquartered in Palo Alto, California and can be reached at http://www.complianceonline.com. ComplianceOnline is a MetricStream portal. MetricStream (http://www.metricstream.com/) is a market leader in Enterprise-wide Governance, Risk, Compliance (GRC) and Quality Management Solutions for global corporations.
For more information please contact:
A Reuben Bernard
Manager of Program Marketing
ComplianceOnline
2600 E Bayshore Rd
Palo Alto CA USA 94303
650-620-3937 phone
650-963-2530 fax
reuben(at)complianceonline(dot)com
http://www.complianceonline.com