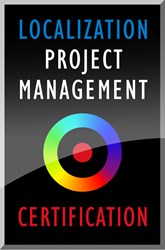 Bangkok, Thailand (PRWEB) December 12, 2013
The Localization Project Management Certification Program consists of a 10 week online learning course, made up of 12 hours of video presentation and 4 reading assignments. Modules are followed by a 2 day project management training workshop and certification exam. This will be held in conjunction with Localization World 2014, starting a day later between the 27 and 28th Feb at the Millennium Hilton. The landmark venue selected for the international event, is one of the finest hotels in Bangkok, situated on the banks of the Chao Phraya River, with panoramic views of the city skyline.
The curriculum, developed by the Localization Institute has been approved by global industry body - the Project Management Institute (PMI). It incorporates the 5 process group model detailed in the PMBOK Guide - the internationally recognized 'book of knowledge' for project management. Delegates will discover how to apply these standards in a localization setting, encompassing the impact of technology.
Bangkok based Localization Company EQHO Communications Ltd. are long-term sponsors of the Localization World Event. In Singapore 2013, EQHO Vice President Steven Bussey gave a presentation about business in emerging markets, excerpts of which were featured in July's edition of Multilingual Magazine. This year, Group CEO Ross Klinger will be appearing as a guest speaker. He will give a thought-provoking lecture questioning Western-centric assumptions about the use of localization technologies in developing countries. The seminar titled What's Good for the Goose is Problematic for the Gander, will discuss how technology may be limiting, rather than enhancing, the ability of less-developed countries to participate and compete in the localization industry.
Committee member, EQHO President Phanitanan Sanitprachakorn explains the significance of the project manager's role in localization.
"The complexities involved in a large-scale localization project are immense. Projects require the collaboration of many people from multiple professions such as marketing and software development. A large number of participants generate an extreme number of files and documents; these must be distributed without error to avoid multiple versions being circulated. Translation Memories and Glossaries must be synchronized between many translators working concurrently, for accuracy and consistency."
"The challenge is intensified because participants are of different nationalities, thus requiring effective communication across multiple languages and cultures. Even time zone differences must be taken into account. The Localization Project Management (LPM) Certification Program provides a framework to orchestrate projects seamlessly, based on globally recognized best practices."
Attendees must have 3-5 years' experience in localization project management. Delegates who confirm their place before 19th December will receive a $200 discount. Further workshops will take place in Dublin Ireland and Seattle USA, later in the year.