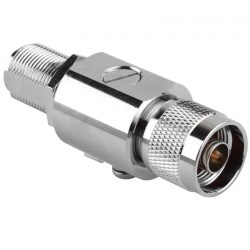 (PRWEB) December 13, 2013
Famous arrester online supplier, RFcnn.com, has released its latest gas tube surge arrester collection; included in the new selection are high quality, practical arresters. With years of hard work, the company has beat out a number of rivals and become one of the industry leaders. According to a senior spokesman for the company, RFcnn.com is now offering a special offer on these high end products.
The new gas tube surge arresters from the company are specially made for the international customers. Its officials understand that different customers may have different needs and requirements. Therefore, the new range is available in various specifications.
The company's products have taken over the industry in recent years. That is mainly because of their high quality, practical applications as well as affordability. All the company's items are offered at the most cost-effective prices. Hence, more and more customers intend to buy high end products (including surge arresters, mini baluns, lightning protectors, coaxial surge protectors and more) at its website.
RFcnn.com is also known to deploy strict quality regulations. That is why each of the company's items is of high quality. Its products can be used in plenty of industries.
About RFcnn.com
RFcnn.com is an online shop of high end devices. It is a China based company that aims to provide customers with high quality products at the lowest possible prices. Customers can try the company's products through sample orders with a long-term contract. Most customers come back soon after receiving their first deals.
More details about the company's useful products can be found at http://www.rfcnn.com/Surge-Arrestor-gas-tube-For-Microwave-N-male-to-female-37.html.