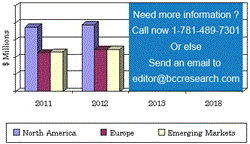 Global Market for Advanced Drug Delivery Systems to Grow to Nearly $212.8 Billion by 2018
Wellesley, Mass (PRWEB) December 13, 2013
According to a new technical market research report, Global Markets and Technologies for Advanced Drug Delivery Systems, from BCC Research (http://www.bccresearch.com), the global market for advanced drug delivery systems was valued at nearly $176.7 billion in 2012 and is expected to reach nearly $182 billion in 2013. BCC Research projects the market to grow to nearly $212.8 billion by 2018, and register a five-year compound annual growth rate of 3.2% from 2013 to 2018.
The global advanced drug delivery market is driven by biologics and administration of medication through nontraditional routes such as rectal, vaginal, implants or transdermal. Also, some traditional pharmaceuticals are more effective and cause fewer side effects if delivered in forms that allow a continuous or extended release of the drug. These factors, along with new developments in targeted drug delivery, are helping in the treatment of diseases locally with minimized harm to healthy surrounding cells. This is leading to expansion in the advanced drug delivery market.
Advanced drug delivery systems offer many more advantages, including improved therapy by increasing the efficacy and duration of drug activity, decreased dosing frequency, convenient routes of administration, and improved targeting for a specific site to reduce unwanted side effects. The challenge for both drug and drug delivery companies is to deliver existing and emerging drug technologies in a manner that would improve drug administration for the patients.
The development of new drugs necessitates the development of different drug delivery systems, which may be already under patent, and this also forces companies to collaborate. Targeted drug delivery, which includes liposomes, nanoparticles and monoclonal antibodies, was the largest revenue generator for this market during 2011 to 2013.
The research-based pharmaceutical companies and institutes are continuously working towards the discovery and development of new drug delivery systems. This has led to mergers and profitable partnerships between pharmaceutical companies. Indeed, transdermal technologies have opened new doors for pharmaceutical partners seeking to create delivery mechanisms for existing molecules with no viable delivery system and existing drugs that could benefit from additional delivery systems, such as compounds that were previously unable to be delivered through the skin.
Advances in understanding the human biology and diseases are opening new and exciting possibilities in the biotechnology industry. R&D spending, along with increasing competition, patent expiries, and new technologies will continue to shape growth in this market for the foreseeable future.
This technical market research report encompasses drug delivery systems in pharmaceutical and biotechnology markets. BCC Research analyzes each market by its type, region and its applications, regulatory environment, technology, market projections and market share. Technological issues include the latest trends and developments. The emerging markets for drug delivery systems include countries such as India, China, Japan, Korea, Taiwan, Canada, Africa, Australia, New Zealand, and others.
This study contributes to the areas of market growth in various drug delivery systems manufacturers and users. Pharmaceutical biotechnical companies and research institutes will find this study to be of interest.
Source:http://www.bccresearch.com/pressroom/phm/global-market-advanced-drug-delivery-systems-grow-nearly-$212.8-billion-2018