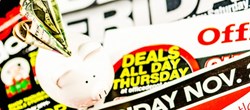 The in-store holiday environment trumped the convenience of Cyber Monday.
Denver, CO (PRWEB) December 16, 2013
Black Friday and the in-store experience appears to be holding its grip on holiday shoppers, according to new research from GutCheck, a Denver-based agile research firm. Shoppers in the research reported finding better deals in stores versus online this year, and valued the holiday experience and tradition of Black Friday over the ease and convenience of Cyber Monday.
The consumer insights research was launched last week by GutCheck to better understand how consumers navigate and strategize Black Friday and Cyber Monday sales this 2013 holiday season. While shoppers reported having positive experiences with both Black Friday and Cyber Monday, a majority preferred their Black Friday experience, despite Cyber Monday's convenience, and reported finding better deals in-store. The in-store holiday environment trumped the convenience of Cyber Monday.
"There appears to be a conflict occurring among shoppers this holiday season," said Matt Warta, CEO of GutCheck. "While they reported a preference for the Black Friday in-store shopping experience for the atmosphere and deals, they also simultaneously said they generally prefer online shopping for its ease and convenience. It appears that both annual events are here to stay."
Black Friday was often viewed by shoppers as a tradition involving family and friends, with shoppers expecting to return to the same retail stores they had shopped at in year's past. The major retail stores most mentioned included Macy's, Kohl's, Target, Walmart, and Best Buy. On the other hand, Cyber Monday was held in less emotional esteem, with shoppers focused on finding deals from large online retailers. Those who preferred Cyber Monday enjoyed the less hectic experience of shopping online and the ease of finding more in-stock items, with Amazon being the most popular site for deals. Other popular sites mentioned included large retail stores like Walmart and Target, specialty retailers such as Ulta, and clothing retailers like Old Navy and The Gap.
Leading up to Black Friday shoppers used a variety of sources to inspire gift ideas and track sales, including print ads, television commercials, emails from retailers, and local newscasts. For Cyber Monday shoppers depended more heavily on emails from online retailers to alert them of sales and gift ideas. Shoppers were also are more likely to comparison-shop for deals on Cyber Monday, using multiple sites simultaneously to find the best deal on a given item.
Previous GutCheck holiday research released in November explored the differences in shopping preferences between Millennial and Generation X shoppers in advance of Black Friday and Cyber Monday. The results of that study echoed the preference for online shopping, especially for electronics and specialty items. According to that research, while in-store-only shoppers were in the minority, they preferred in-store shopping for the holiday atmosphere and because it was more personal than the online experience.
This Black Friday Cyber Monday research leveraged GutCheck's Instant Research Community offering, with one group of n=25 respondents completing the journaling study. Over the course of eight days, respondents were asked 1-5 journal "prompts" to help elicit timely, in-depth feedback in the days leading up to both sales. To qualify for this study, respondents were females who had to celebrate Christmas and plan to participate in both Black Friday in-store and Cyber Monday online sales.
About GutCheck
GutCheck is an on-demand research community solution that provides immediate insights from specific customer segments enabling clients to optimize their product innovation and marketing communications processes. Unlike traditional online communities that want for speed and accuracy, GutCheck delivers highly actionable feedback in days and without the need to invest hundreds of thousands of dollars upfront. For more information: http://gutcheckit.com.
Media Contact:
Laura Taylor
Taylor Strategic Communications for GutCheck
taylor-laura(at)comcast(dot)net
(303) 346-9149 office
(720) 556-2640 mobile