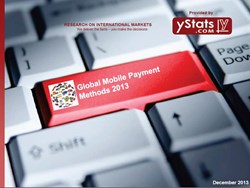 Rockville, MD (PRWEB) December 20, 2013
Global Mobile Payment Methods 2013
Hamburg-based secondary market research company yStats.com has released a new report titled "Global Mobile Payment Methods 2013". The report indicates that the practice of using mobile devices such as smartphones and tablets in online as well as traditional retail commerce continues to see growing acceptance around the world.
The report indicates that consumers globally are showing interest in mobile payments: less than a quarter of mobile Internet users surveyed in 2013 used mobile payments, but almost a third of those not using mobile payments planned to do so next year, with both shares being higher in emerging markets than in mature economies. Mobile payments are forecasted to reach over EUR 150 billion worldwide in 2013, with a strong double-digit growth forecasted for the next four years. Growth of non-banking mobile payments is projected to be stronger than banking payments, but the latter is will continue to dominate through 2014. Forecasts for NFC payments have been decreased due to slower than expected adoption. Growth rates, however, are expected to take off after 2016.
To order this report: Global Mobile Payment Methods 2013
Contact: Shauna
800.298.5699
customerservice(at)marketresearch(dot)com
yStats.com GmbH & Co. KG
Founded in 2005, yStats.com is committed to the research of objective, demand-based and up-to-date data on markets and competitors for top managers from various industries including retail, home shopping, E-Commerce, telecommunication, logistics and energy.
About MarketResearch.com
MarketResearch.com is the leading provider of global market intelligence products and services. With research reports from more than 720 top consulting and advisory firms, MarketResearch.com offers instant online access to the world's most extensive database of expert insights on global industries, companies, products, and trends. Moreover, MarketResearch.com's Research Specialists have in-depth knowledge of the publishers and the various types of reports in their respective industries and are ready to provide research assistance.
Follow us on Facebook http://www.facebook.com/marketresearchdotcom
Follow us on Twitter http://www.twitter.com/marketresearch_
Global Mobile Payment Methods 2013 - Table of Contents:
1. Management Summary
2.Global
Online and Mobile Payment Trends and News about Players, 2013
Value of Mobile Payment Transactions, in USD billion, and in % CAGR, 2012 & 2014f
Value of Mobile Payment Transactions, in USD billion, and in % CAGR, 2012, 2013f, 2017f
Breakdown of Mobile Payment Transaction Value, by Type, in %, 2013f & 2017f
Number of Mobile Payment Transactions, in billion, and in % CAGR, by Bank Providers, Non-Bank Providers and Total, 2010-2014f
Number of Mobile Payment Users, in millions, and in % CAGR, 2012, 2013f, 2017f
Share of Mobile Internet Users Using Mobile Payments and Planning to Use Mobile Payment Within the Next 12 Months, in %, by Total, Mature Markets and Emerging Markets, 2013
Share of Consumers Who Would Prefer to Pay with Smart/Mobile Phone or Tablet over Payment with Wallet, in %, by Selected Countries, 2013
3. North America
4. Latin America
5. Europe (regional)
6. Central Europe
7. Western Europe
8. Eastern Europe
9. Scandinavia
10. Asia
11. Oceania
12. Middle East
13. Africa