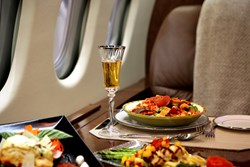 Corporate Flight Attendants are not required to be trained on Food Safety, however they have a substantial involvement in food handling and many aspects of the onboard catering.
London (PRWEB UK) 13 December 2013
Corporate Flight Training, a new British aviation training provider debuts this month with the launch of an exclusive food safety training program for Corporate Flight Attendants. This new training program developed specifically for the private aviation industry is the first of its kind in Europe, and provides Flight Attendants working in the sector with the certification to handle and prepare food safely onboard to the same standards expected from any reputable catering establishment or restaurant.
Whilst any employees involved in food handling duties on the ground are required to have food safety training, for a Corporate Flight Attendant with substantial involvement over many aspects of the onboard catering, there is none. Corporate Flight Attendants have varied responsibilities, as well as ensuring the safety of passengers, sourcing and preparing catering onboard take high priority.
Private aircraft are not designed to the high levels of operational kitchens, often with small galleys and minimal chilled storage facilities, limiting the capability of food service that is expected to be at the level of a high-end restaurant at times. Flight Attendants preparing onboard cuisine are often not skilled with the appropriate tools to safely handle food onboard, potentially risking foodborne illness. This dedicated one day program certifies Flight Attendants in food safety and gives thorough training on food hygiene standards which are vital to the safety of passengers and crew.
Corporate Flight Training Director and founder Yasmin Milner, who brings her extensive background in the private airline sector to this new venture, designed the new Food Safety Program specifically to address the requirements of the industry. A qualified Food Safety and Aircrew Trainer in the UK, Milner has worked in the aviation industry for 17 years, having worked as the Chief Flight Attendant of a global corporations flight department, and serving dignitaries and Royal Families in the Middle East.
"It became apparent during the early years of my career in the private aviation industry at the lack of consideration given to food safety training," says Milner "Handling food on the ground requires the completion of food safety training, yet Corporate Flight Attendants are not required to be formally trained, this has the potential to risk illness to both passengers and crew." "The Food Safety Program provides Flight Attendants with the certification and training to safely maintain such an important task on the aircraft." "It is my goal to work with the private aviation sector to have it regulated as standard."
The Food Safety program runs in London and can be run at client locations upon request. The training course integrates an E Learning module and a day of classroom training. HABC, Highfield Awarding body for compliance accredits the UK course and participants will sit a formal examination, which will furnish them with a recognised food safety qualification. The course aims to give participants a thorough understanding of food hygiene and safety, however it addresses the limitations of corporate aviation and the specific challenges that Corporate Flight Attendants face on a daily basis.
About Corporate Flight Training
Corporate Flight Training is a new British aviation training provider delivering safety and emergency procedures training to Pilots and Cabin Crew and vocational Cabin Crew training courses. The company debuts with the industries first European food safety training program for the private aviation sector.
To learn more about the Food Safety program for Corporate Flight Attendants and Corporate Flight Training, please visit http://www.corporateflighttraining.com or email safety(at)corporateflighttraining(dot)com.