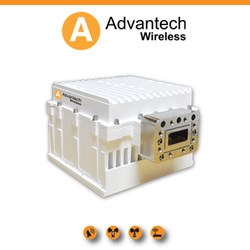 Montreal, Canada (PRWEB) December 12, 2013
Advantech Wireless Inc., a privately-held Canadian corporation and manufacturer of Satellite, RF Equipment and Microwave Systems announced today that it has successfully completed the delivery of several orders totaling $1M for its 25W GaN C-band and X-band BUCs.
The 25W GaN C-band and X-band BUCs are constructed in a compact cooling enclosure specially designed for outdoor operation. The units are weatherproof and are perfectly suited for harsh environments such as man-pack terminal deployments. The 25W C-band and X-band GaN BUCs are part of a series of hub-mounted, up-converter transmitters, using Advantech Wireless World-leading Satellite GaN Technology. These GaN BUCs are integrated units, completed with power supply, phase-locked oscillator, mixer, filter and cooling mechanism weighing less than 2.5kg, or about 5 lbs.
Cristi Damian, VP Business Development at Advantech Wireless states: "These BUCs deliver more power per square inch than anything else in the market. They are now part of WGS certified terminals, meeting the most stringent military specifications and also deployed on several large commercial programs, where cost is the main drive. We are delivering military grade equipment to commercial markets, at a fraction of the cost, for the entire satellite industry benefit."
The design of the 25W GaN C-band and X-band BUCs is based on Advantech Wireless's industry proven reliable solid-state high power amplifiers. Built-in design features result in a product with exceptional linearity and operating efficiency. The use of high efficiency power supply and conservative thermal designs contribute to the trouble-free operation of the unit. For solid communications and in the harshest of environments, Advantech Wireless' 25W GaN C-band and X-band BUCs are the product of choice.
About Advantech Wireless
Advantech Wireless, an ISO 9001: 2008 certified corporation, is the leading-edge wireless broadband communications solution provider. Advantech Wireless designs, manufactures and deploys networking for broadband connectivity, broadcast solutions, video contribution and distribution, mobile 2G, 3G and LTE backhaul and DTH & DTT video distribution, using satellite and terrestrial wireless communications. The products include VSAT Hubs and Terminals, world-leading GaN technology High Power Amplifiers (SSPAs), Block-Up Converters (SSPB), Frequency Converters, Satellite MCPC/SCPC Modems, fixed and deployable Antennas, Antenna Controllers, Terrestrial Microwave Radios, Routers and ruggedized military products. For further information please visit the company's web site at: http://www.advantechwireless.com/news/.