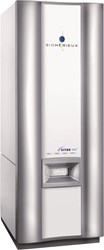 St. Louis, Missouri (PRWEB) December 16, 2013
bioMérieux,Inc a world leader in the field of in vitro diagnostics, is pleased to announce that EMSL Analytical, a leader in microbiology testing specializing in rapid pathogen detection is adopting the company's VITEK® MS technology for rapid identification of potentially harmful microorganisms.
VITEK MS, uses MALDI-TOF mass spectrometry technology to identify bacteria, yeast, and mold, offering significant time savings with respect to traditional identification methods, the system was the first to receive de novo FDA clearance for IVD August 21, 2013. It is also extremely sensitive, providing a standard of accuracy above many of the current state-of-the-art techniques.
"We are excited to bring this state of the art technology to EMSL. The VITEK MS gives us the ability to provide microbial identification with unprecedented speed and accuracy for our clients. VITEK MS also aligns with the needs of EMSL's cGMP Microbiology lab as well as environmental and forensic microbiological capabilities. We look forward to providing our clients with the benefits that the VITEK MS brings," said Dr. Frasca, President of EMSL LABS.
Bacterial and mold identification are crucial to confirm contaminations and to guide corrective actions in the production of consumable products made by pharmaceutical, cosmetic, and food manufacturers. With 50 years of experience in microbial identification, bioMérieux brings to the customer the benefits of a robust data collection model suited for industry needs. VITEK MS provides fast, flexible, and robust results, and can provide an identification of a microorganism's genus and species in just a few minutes. As the world leader in microbiology, bioMérieux pairs VITEK MS system with the most comprehensive microbial database specific for industry in the business.
"Reference laboratories today are striving to improve productivity and shorten their time-to-results needed by their customers," said Pierre-Louis Thiney, Executive Director US Industry for bioMérieux. "Providing a fully integrated, rapid solution for microbial identification is a significant step in providing timely and accurate results to the customer."
For more information on VITEK MS along with other bioMérieux industry technologies, please visit http://www.biomerieux-industry.com/ms
About EMSL Labs
About EMSL Analytical, Inc.
EMSL Analytical is a full service testing company providing scientifically defensible lab services under the same private ownership since 1981. Including the corporate lab facility in Cinnaminson, NJ, EMSL Analytical operates over thirty laboratories nationwide in the US and Canada. The company has an extensive list of accreditations from leading organizations for environmental, indoor air quality, and forensic testing. EMSL is also an FDA registered, DEA licensed laboratory for pharmaceutical, nutraceutical, and personal care product testing. For additional information please see http://www.emsl.com
About bioMérieux
Pioneering Diagnostics
A world leader in the field of in vitro diagnostics for the past 50 years, bioMérieux is present in more than 150 countries through 41 subsidiaries and a large network of distributors. In 2012, revenues reached €1.57 billion with 87% of sales outside of France.
bioMérieux provides diagnostic solutions (reagents, instruments, software) which determine the source of disease and contamination to improve patient health and ensure consumer safety. Its products are used for diagnosing infectious diseases and providing high medical value results for cancer screening and monitoring and cardiovascular emergencies. They are also used for detecting microorganisms in agri-food, pharmaceutical and cosmetic products.
Additional information can be found at http://www.biomérieux-usa.com.