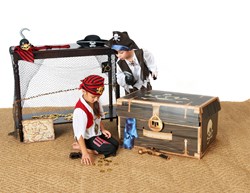 New Berlin, WI (PRWEB) December 12, 2013
With stores and shoppers everywhere pushing the latest video game systems, one online retailer of costumes and party supplies is setting its focus on the gift of imagination.
New for the 2013 holiday season, CostumeExpress.com is introducing themed dress-up trunks. Intended to bring a new and unique dimension of fun to playtime, each trunk comes with a distinct motif; current available options include pirate, princess, superhero, occupations, and ninja themes.
"We're looking at ways to encourage playtime instead of screen time," said Dana Palzkill, vice president of Merchandising at CostumeExpress.com. "Imaginative playtime is healthy and essential for kids. We hope our new dress-up trunk options inspire creativity in children this holiday season."
According to a recent article1 by cognitive psychologist Scott Barry Kaufman, Ph.D., pretend play has been shown to enhance learning ability in children. "Actual studies have demonstrated cognitive benefits such as increases in language usage including subjunctives, future tenses, and adjectives," Kaufman writes.
CostumeExpress.com's new line-up of dress-up trunks retail for $44.99 each. Deluxe options that come fully stocked with a selection of themed costumes and accessories retail for $99.99. The trunks are designed by CostumeExpress.com.
1 http://www.creativitypost.com/education/the_need_for_pretend_play_in_child_development
# # #
CostumeExpress.com is the family-friendly internet retailer of costumes and costume event décor, and the place to shop for year-round costume and dress up needs. CostumeExpress.com is one of the brands of BuySeasons, Inc. Founded in 1999, BuySeasons, Inc. is the leading online retailer of costumes, accessories, party décor and supplies for year-round celebrations and entertaining. BuySeasons, Inc. owns and operates BuyCostumes.com, as well as BirthdayExpress.com, CostumeExpress.com, 1stWishes.com and CelebrateExpress.com. BuySeasons, Inc. is a subsidiary of Liberty Interactive Corporation.