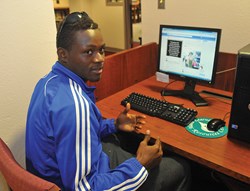 I feel like we're all made differently and unique, in God's image, which is something I truly believe. It's something we need to celebrate and acknowledge, not make fun of it and throw it aside.
Plainview, TX (PRWEB) December 14, 2013
LaMin SaWaneh doesn't dispute the challenges that face those who live in or have emigrated from Africa. He does, however, wish to offer an alternate view.
With that goal in mind, the soccer player who is a junior economics and finance major at Wayland Baptist University, began a blog site that can be accessed both through Facebook and Tumblr under the title, "howiviewafrica" (How I View Africa).
"I'm just trying to educate the public on different subjects — based on Africa, Africans' perspective, Africans in the U. S. and the diaspora and back home, just to show them a different side of what we don't normally see on TV here," he said.
While SaWaneh came to Wayland from Atlanta, Ga., originally he is from Sierra Leone in West Africa. Now 23, he came to the States at the age of 10, as a refugee from the Diamond Wars. His parents were not able to get out of the country and have since both died of natural causes.
The soccer player explained that the blog has its origins in both his Christian faith and the stereotypes he has faced over the years.
"It's not the poverty. It's not the killing. That goes on, but I feel like that also goes on in every country. But in terms of Africa, that's all (people) think about," He said.
SaWaneh uses the blog to post his thoughts on a variety of subjects ranging from culture to racism and then allows those following the blog to respond and add their own perspectives. That is part of the reason he chose the name of "How I View Africa."
"It's multicultural. I want every individual to represent that 'I' because when you say 'I,' you are talking about yourself and that's the only way the stereotype can break because all of us have different views," he said.
SaWaneh came to Wayland in 2011 after his father died. He said that was a pivotal time in his life. He had no faith, he had no real passion.
"I was just lost, searching," he said.
He came to Wayland, realizing that the university would provide a consistent Christian environment that would allow him to grow, both spiritually and intellectually.
He began attending Harvest Christian Fellowship, but he also studied the lives and teachings of leaders such as Gandhi, Nelson Mandela and Mother Teresa. He was intrigued by Gandhi's notion that in order to change the world, one has to look within one's self. He was fascinated by the spiritual strength that Mandela demonstrated in his practice of forgiveness after his years of imprisonment — and he was moved by his pastor's sermon on multiculturalism and how God views society.
Since its inception, SaWaneh's blog has attracted about 125,000 followers — approximately 117,000 on Facebook and another 5,000 or so on Tumblr.
"People just keep coming," SaWaneh said. "I think it's just God, mainly, because I'm too busy (with school and soccer) to promote it."
From those 125,000 followers have come a variety of conversations. A continuous one is racism and one of the things that SaWaneh works to point out is that racism and cultural and social discontent flow in many directions.
"Racism in the U. S., having been here for almost 13 years, I know that it still exists, not just within whites and blacks, it exists between blacks and blacks … whites and whites.
"It's an issue that needs to be addressed. It's something that we need to talk about as a society and we need to get rid of, not just in the U. S., but even in Africa. I have friends from Sudan and in Sudan most of the natives are more dark (complected) compared to a North African or some western Africans. That doesn't make it okay,' " he said — his frustration apparent.
"I feel like we're all made differently and unique, in God's image, which is something I truly believe. It's something we need to celebrate and acknowledge, not make fun of it and throw it aside."
That is why SaWaneh is so devoted to his blog, and he believes it is why God is blessing his work. He went back to something his pastor continually tells him, that everyone is a minister in their own way. It is why the "I" is so important to the title.
"I think it's just God ministering through me," he said. "I'm just amazed. I get so excited. It's making my faith stronger, knowing that I have my own voice. I mean, even though you're living in this world, every individual is powerful and everybody does have a voice."
To find SaWaneh's blog, enter "howiviewafrica" in the search bar on both Facebook and Tumblr.