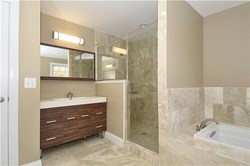 Lorton, VA (PRWEB) December 13, 2013
WISA Solutions has started their first phase of a bathroom remodel that they were awarded last week. This remodel will have four basic phases and it is estimated to be finished by Saturday.
The first phase WISA will be doing today will be the demolition phase. This bathroom is a 5 by 8 bathroom with a tub. WISA will be removing all existing fixtures including tub, vanity, toilet along with tile take up.
Once the demolition phase is finished, WISA will start doing minor plumbing and electrical work to get the bathroom ready for the finishing. The new tub will also be installed during this phase.
The next phase of the bathroom remodel will be to prep the bathroom for the tile installation. During this phase, WISA will be installing backer board on the floor and durock on the shower wall.
The last and final phase will be the finishing. In this phase WISA will be installing the tiles the homeowner had picked out from WISA's showroom on both the wall and floor. Along with the tile installation, WISA will be installing the vanity, toilet and all the fixtures. WISA will also do the painting during this phase as well. Once this phase is finished, a WISA project manager will do a final walk through with the homeowner to see if everything is approved or if the homeowner has any questions or concerns.
When doing any bathroom remodel WISA advises the homeowners to communicate openly with the contractor. WISA also suggest that everything should be planned out on paper before starting any type of construction. This could save you a ton of money because it is always cheaper to get it right the first time than do it again a second time.
WISA Solutions business hours are from 8AM-5PM weekdays and 10AM-2PM on Saturdays and by appointment with any time outside of that.