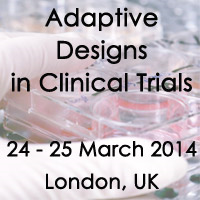 London (PRWEB UK) 12 December 2013
SMi would like to invite you to attend the 8th annual Adaptive Designs in Clinical Trials conference, taking place in central London on the 24 & 25 March 2014.
This conference is the only in Europe that focuses on adaptive designs specifically, providing delegates with updates on recent developments in enrichment design, dose response modelling, computer simulation, internal and external regulatory expectations and new data on evaluating adaptive dose ranging studies.
One of the highlights of this conference is the panel discussion sponsored by Cytel. You will have the opportunity to discuss the barriers and the future of adaptive designs with our experts panel composed by:
•Michael Krams, MD, Global Head, Quantitative Sciences, Janssen Pharmaceutical Companies of Johnson & Johnson: Recognized as an expert in designing, implementing and executing adaptive designs, enabling real-time learning in Learn and Confirm studies. He has built an industry leading cross-functional team of drug developers, applying Modeling&Simulation techniques and integrating input from clinical, translational medicine, biostatistics, discovery and commercial. The emphasis is on applying innovative designs across therapeutic areas, including small molecules, vaccines and biologics. Mike co-chairs clinical review committees and continuously challenges teams to apply scientific rigor to decision problems without losing sight of the business case. As co-chair of PhRMA's working group on adaptive designs Mike has contributed to an ongoing debate with regulatory agencies, with a goal to establish a common position on "Good Adaptive Practices".
•Christopher Jennison, Professor of Statistics, University of Bath: He was awarded his PhD from Cornell University for research into the sequential analysis of clinical trials and has continued to work in this area for the past 25 years. He has published extensively on group sequential methods and adaptive designs. His book with Professor Bruce Turnbull, "Group Sequential Methods with Applications to Clinical Trials", is a standard text on this topic and is widely used by practising statisticians. Professor Jennison's research is informed by experience of clinical trial analysis at the Dana Farber Cancer Institute, Boston and a broad range of consultancy with Medical Research institutes and Pharmaceutical companies in Europe, America and Asia. He has made numerous presentations at international conferences , in which he sets out to describe novel statistical methodology and its application to the design and analysis of clinical trials.
•Pantelis Vlachos, Principal Biostatistician, Strategic Consulting, Cytel: Before he was a Principal Biostatistician at Merck Serono as well as a Professor of Statistics at Carnegie Mellon University for 12 years. His research interests lie in the area of adaptive designs, mainly from a Bayesian perspective, as well as hierarchical model testing and checking although his secret passion is Text Mining. He is the Managing Editor of the journal "Bayesian Analysis" and has served in the editorial boards of several other journals and online statistical data and software archives.
•Loic Darchy, Head of Statistical Methodology Group, Sanofi R&D: Has been working in pharmaceutical industry for more than 25 years . His favourite areas of statistical research are adaptive designs, multiple testing procedures and all statistical techniques surrounding personalized medicine such as signature development and validation, biomarker-based designs, variable selection and drug allocation optimization in very high-dimensional settings (e.g. genomics).
•Sue Todd, Professor of Medical Statistics, University of Reading: has over 18 years experience as an applied academic statistician working in the fields of clinical trials and epidemiology. Her particular research areas of interest are adaptive designs, sequential clinical trials and statistical methods for epidemiology. Recent research has considered methodology for adaptive seamless phase II/III clinical trials, in particular trials involving treatment selection and multiple endpoints of interest.
Professor Todd has been involved in the design and analysis of numerous pharmaceutical sequential/adaptive clinical studies in the areas of schizophrenia, osteoporosis, a variety of cancers, infection, kidney transplantation, heart disease and depression. She has been the independent statistical expert on the Data and Safety Monitoring Boards for a large number of multinational trials, both pharmaceutical and public sector funded.
Some of the topics in discussion include:
•Critical appraisal of adaptive designs: where are the real gains?
•Is wider acceptance linked to how the methods fare in the public sector? To become common practice more people need to be using the approach – not just the pharmaceutical industry
•Has there been a collective "undue advocacy" of adaptive trials by proponents? Have we unintentionally created unrealistic expectations of improving outcomes and/or efficiencies?
•Will the adjective "adaptive" be dropped some day, as all trials will be adaptable (in one form or another)?
•How will trends toward modelled patients (physically and virtual) change the future of trials? Will we see trials without humans in our lifetime?
For more information about this conference, please visit the website.