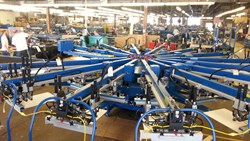 Primos, PA (PRWEB) December 18, 2013
AMPRO, a Philadelphia-based screen-printing and embroidery company specializing in custom apparel and promotional items, recently announced a series of major equipment upgrades to their production and packaging departments, along with the addition of 20 new jobs.
"This year, we expanded by one press and replaced two other printing presses with the newest M&R Challenger 3 machines," said Steph Shea, chief operating officer at AMPRO. "The two presses we replaced were running great and at a high level of quality, but the newer machines are more efficient and we're focused on keeping our production capacity high to deliver orders faster than ever to our clients. Last year we also flipped four older presses in favor of the newer more efficient ones, so now virtually all of our automatic printing presses are brand new."
With this equipment upgrade, AMPRO has increased their production department from ten presses to eleven overall machines. In addition the company has also doubled the packaging department with new Amscomatic equipment.
American-made, the upgraded presses and dryer are designed for high-efficiency; making them fast enough to increase overall production numbers in accelerated timelines.
To support the new equipment, AMPRO has also created about 20 full-time job positions. "It's exciting to expand the business and upgrade our quality at the same time," said Shea. "We're pleased to be creating jobs and buying American-made equipment from our long-time suppliers."
With this new equipment and additional staff, AMPRO can continue production at a fast pace while maintaining the quality of their custom products. "From initial design, to printing, and through packaging, the overall production of apparel and promotional items is at an all-time high," said Shea.
To learn more about AMPRO Sports and their custom apparel and product capabilities, please visit their website, call AMPRO Sports at (800) 341-4008, or visit the official Facebook page. To design your own custom product, visit http://www.amprosports.com/designer/Design-Your-Own-G2000.php.
About AMPRO Sports
AMPRO Sports is a screen-printing and embroidery that specializes in custom apparel and promotional items. AMPRO designs and supplies high-quality custom sports uniforms, t-shirts, polos, hats, corporate items, and more. Located in Primos, PA, AMPRO has worked with sports teams, events, big brands, small businesses, and individuals for more than 40 years. To learn more about AMPRO Sports and our custom apparel and products, visit http://www.amprosports.com.