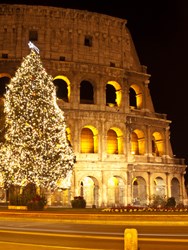 Somerville, MA (PRWEB) December 12, 2013
ItaliaRail, the experts on train travel to, from and around Italy, has made its list- and checked it twice - of the 12 best things about Italy during the holiday season. From magical Christmas markets, to delicious holiday pastries and cakes, and the the world's tallest Christmas tree, Italy is even more magical than usual. Traveling by train is especially convenient during the holidays when roads and airports are jammed with traffic.
1. Precious Presepe - Nativity scenes, decorated and adorned with care, are considered an art form throughout Italy during the holiday season. They can be seen everywhere from Rome to small villages, and are all gorgeously presented with special unique touches reflecting the region they are from. In Naples, the narrow street of Via San Gregorio Armeno is famous for its shops filled with beautiful hand-crafted statues and ornaments.
2. St. Peter's Square - The main square of the Vatican City, comes alive during the holiday season, with a huge Christmas tree and a life-size nativity. Thousands of visitors come to hear the Pope say midnight mass in St. Peter's Basilica, for which tickets must be purchased well in advance.
3. Mount Ingino Christmas Tree - At just over 2,000 feet the Christmas tree on Mount Ingino, just outside the city of Gubbio in the Umbria region of Italy, has been called the biggest Christmas tree in the world. It's not an actual standing tree, but over 3,000 strings of strategically placed lights, up the slopes of the mountain, to form the shape of a decorated tree. The magnificent illumination can be seen from up to 30 miles away.
4. Christmas Markets - Festively decorated and ready for customers, Christmas markets are everywhere in Italy during the holiday season. From Rome to Venice to smaller towns and villages, merchants showcase their wares of small crafts, nativity scenes, ornaments and traditional Italian foods.
5. Last Supper Fresco - Leonardo DaVinci's the Last Supper is probably the most famous painting in Italy . Located inside the refectory of the Santa Maria della Grazie church in Milan, the world-famous fresco can be viewed by purchasing tickets online or once you get there. Each ticketed visitor only gets a 15-minute look, but it's well worth the once-in-a-lifetime viewing of this masterpiece. During the holidays, tourists flock to see the painting. There are no viewings on Mondays, Christmas Day and New Years Day.
6. Cinque Terre Solar Powered Nativity - Every year the seaside town of Manarola, in Cinque Terre, plays host to the largest precepe , or nativity, in the world. More than 15,000 lights adorn the hills of Cinque Terre, all designed by Mario Andreoli, a former railroad worker, who has dedicated his life to the art of presepe. Truly a sight to see, the illuminations are completely solar powered and energy efficient
7. Zampognari
No one knows exactly where the Zampognari tradition originated from, but you are sure to see and hear them come December 8th, when the Feast of the Immaculate Conception begins. These entertainers arrive bearing their signature zampogna, a musical instrument similar to a bagpipe, but the zampogna (and in some cases, the piffero, a kind of oboe) are unique to the areas in which they are fashioned, with each tuned to play a different way depending on where they are constructed. The Zampognari are often found in traditional garb and are easily recognizable around the plazas of Italy during festivals.
8. Pope's Message - Every year on Christmas Day the Pope delivers his "Urbi Et Orbi," Latin for the city and the world. Thousands of people gather in St. Peter's square, and watch on TV from home, to see him emerge from his apartment to the balcony and heart his inspiring message and hopes for the future of the world.
9. Feast of the Seven Fishes - On Christmas Eve, in Roman Catholicism and most of Italy, it is tradition to abstain from eating any meat or dairy products. On this day, many Catholics choose instead to indulge in a meal of fish. From this custom, the Feast of the Seven Fishes was born. Although the name itself seems to imply that only fish are eaten, this Christmas Eve meal typically includes many forms of seafood, such as lobster, octopus or clams at the same table. Often, the delectable spreads for vary from region to region.
10. Babbo Natale - Better known as Father Christmas, or as we like to call him in the States, Santa Claus, Babbo Natale is gaining popularity in Italy and comes bearing a few gifts on Christmas Day. But he still shares the spotlight with another figure, the more widely celebrated La Befana, who gives gifts on Epiphany, a holiday based on the story of the Three Kings, and observed on January 6.
11.Panettone- This delicious Christmas bread can be found all over Italy during the holidays. The large sourdough like cake has candied oranges, lemon zest and raisins. In some regions of Italy, it is served with crema di mascarpone, a cream made from mascarpone, eggs, sometimes dried or candied fruits, and typically a sweet liqueur such as amaretto.
12. Santo Stefano - While historically this day is reserved for observing the beloved St. Stephen, the modern day incarnation of this holiday is geared towards getting through the last of the holiday leftovers, often with those who could not make the previous day's festivities because they were spending it with their own families.Santo Stefano a national holiday, and most government run buildings are closed for the day. However, most restaurants are open with a bevy of holiday dishes and deals to celebrate this day devoted to gastric pleasures. All the more so, considering that many Italians are out and about to take in the nativity scenes.
About ItaliaRail: ItaliaRail are the experts on Italy train tickets and passes. In cooperation with Trenitalia, Italy's only national railway, ItaliaRail provides a direct connection to Trenitalia's reservation system allowing rail travelers access to the most routes at the best prices. Travelers are able to book in multiple currencies and knowledgeable customer service agents are available to answer questions and give advice on train travel throughout Italy. ItaliaRail was launched in 2005 and is a division of International Rail, LLC.