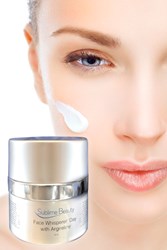 Look great for Christmas and the New Year with the Face Whisperer® line from Sublime Beauty®.
St. Petersburg, FL (PRWEB) December 13, 2013
Look great for the Christmas holidays and into the new year with Face Whisperer® from Sublime Beauty®.
"We designed an anti-aging line that would help improve skin quality," says Kathy Heshelow, founder of Sublime Beauty®. "Many baby boomers are in great shape and want to look their best."
The Face Whisperer® Day cream features Argireline®, known as the natural botox, plus Trylagen® which boosts and protects collagen. Loss of collagen as we age is a contributing factor to wrinkles, thinning and sagging of skin.
The night cream features Matrixyl®, a peptide that can double collagen production. An article was published in Molecular Pharmaceutics this year about studies with Matrixyl® at Reading University.
Consumer NewsWatch TV highlighted Face Whisperer® recently (airing on the Ion and History channels), and it was also covered on NCN.
The Face Whisperer® line also includes a Neck & Decollete cream, as this particular skin is extra fragile and shows age quickly. The neck cream has Argireline but also a number of soothing and hydrating organic ingredients like Aloe, Coconut Oil, Green Tea, Arnica and Lemongrass.
"Our new Face Whisperer® Advanced Eye Gel will be debuting later this month, just in time to start the new year," says Heshelow. "The special ingredients include Eyeliss®, Haloxyl® and Matrixyl® to work on dark circles, puffiness and wrinkles."
Purchasers receive a report about the ingredients and product by email, and all products are sold on Amazon for fast shipping and easy checkout. All products are on sale for Christmas, and those who sign up for secret deals on the Sublime Beauty® website will get additional discounts on products.