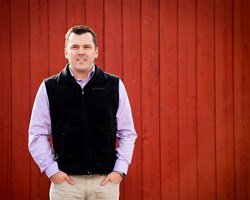 This project was a way of putting our money where our mouth is.
Bennington, VT (PRWEB) December 17, 2013
Tucked away in the southwestern corner of Vermont, Eight Oh Two Marketing launched their own online retail site in early 2013, spurred by a challenge proposed by a client. Applying their same digital marketing methods to their new side project, Eight Oh Two hit their goal of $100,000 in sales, well over a month ahead of time. With one successful test project already in the bag, Eight Oh Two is opening up their inbox for proposals from distributors and entrepreneurs to partner with, for the agency's next online retail venture.
It's not every day that a marketing agency creates its own case study, but in March 2013 on a challenge from one of their clients, Eight Oh Two Marketing launched RollingDoorDesigns.com (RDD), an online rolling barn door hardware retailer. Unlike other case studies, RDD would be a control for a digital marketing experiment. It had no previous brand recognition, no brick-and-mortar store, and it would only be marketed online. Only Eight Oh Two's work in digital marketing would influence the success of RDD.
"This project was a way of putting our money where our mouth is," said Ken Reig, Eight Oh Two's founder and president. "In a way, we built the Rolling Door Designs business in reverse. Instead of having a product that we needed to figure out how to market, or a client seek out our services, we had the services and the experience, but we just needed a product," he said.
After some research and some advice from other clients on what products were trending in their respective industries, Eight Oh Two decided on a niche in the home improvement industry – rolling barn doors. The rustic look of the doors complimented the agency's rural New England setting and focusing on a narrow range of products would simplify the process, while Eight Oh Two continued to run the core business of their agency.
With a supplier deal signed, business documents in hand and a simple e-store built, RollingDoorDesigns.com launched in late March 2013, and Eight Oh Two's staff got to work promoting the business online through paid outlets, like PPC and affiliate marketing, as well as SEO, social media communications, and email marketing.
On the evening of November 13, RDD had surpassed its sales goal of $100,000, and proved their concept by making RDD profitable along the way. "With four months left in the project year and the holiday shopping season just getting started, we hope to blow away our original goal," said Reig. "It's been such a fun and enlightening experience, we plan to take all of our earnings from the rolling door project and reinvest in a brand new project for 2014," he added.
While Eight Oh Two is not sure what that next endeavor will be, Reig and staff are excited to take on their next "fun project" in the coming year. Eight Oh Two is currently accepting suggestions from businesses and individuals across the country for their next Put Your Money Where Your Mouth Is project.
Eight Oh Two Marketing is a digital marketing agency in Bennington, Vermont, specializing in SEO, affiliate marketing, PPC, analytics and planning, social media and email marketing, design and branding. Launched in 2003, Eight Oh Two currently customizes digital marketing campaigns for clients ranging from large E-commerce retailers, to financial institutions, international recruitment firms, and start-ups. For more information visit EightOhTwo.com.