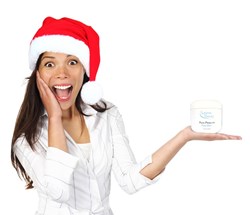 'This is a great gift or stocking stuffer, and also a great 'self-gift' to pamper and reinvigorate,' says Kathy Heshelow, founder of Sublime Beauty®.
St. Petersburg, FL (PRWEB) December 14, 2013
Everybody loves "Pure Pleasure Foot Balm" from Sublime Beauty®, and now is the time to really enjoy it - or make a gift of it.
"This balm is amazing," says Kathy Heshelow, founder of Sublime Beauty®, "because it invigorates, hydrates and heals all at the same time. Many of the ingredients are fully natural, too."
The invigorating ingredients include wintergreen, menthol, eucalyptus and spearmint; hydrating ingredients include shea butter, sweet almond, aloe, safflower and grapeseed oil; healing ingredients include tea tree oil and organic arnica.
Feet need good hydration, and can become especially dry during winter.
"When our feet are tired, we are tired, and just some attention like massaging the feet with this great product improves the mood and well-being," says Heshelow.
The balm is currently on sale, and all Sublime Beauty® products are offered through Amazon for swift processing for Christmas. The company has a handy Christmas Gift Guide to help with last minute gifts, too.
The company offers a Gift Guide and Christmas pages with videos to help with last minute gifts.