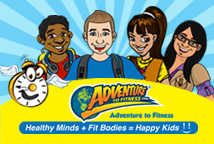 Our business has exploded in the last year, with more than 90,000 teachers now using our program and more than 10 million kids getting fit with our videos in school and at home
New York City, NY (PRWEB) December 18, 2013
The leading children's educational fitness program, Adventure to Fitness, announced a holiday sale on the kids' exercise videos that have become a fitness craze around the country.
"Our business has exploded in the last year, with more than 90,000 teachers now using our program and more than 10 million kids getting fit with our videos in school and at home," said Kerry Fitzgerald, VP of Operations. "Consider this sale a gift to all our supporters who have helped us get this far."
While teachers have been using the exercise videos for kids in their classes for free for the past 3 years - to fill indoor recess time, give healthy rewards, or help their schools fulfill activity mandates - the program only recently became available to parents at home.
Subscription plans start at $8.49/mo (usually $9.99), including a 1-week free trial, and can be purchased at http://adventuretofitness.com/subscription-plans. Episodes are also available on DVD starting from $11.04 (usually $12.99).
"My kids love this!" said Anna Hilton, Mom of three from Des Moines, IA. "They don't even realize they're exercising!"
###
About Adventure to Fitness
Adventure to Fitness (AtoF) is the #1 educational fitness program for kids, reaching 10 million children around the world. Through engaging videos, interactive games, tips from physicians, informative blog posts and recipes, AtoF's at-home fitness program offers a 360-degree solution to health and wellness education. Used and trusted by over 100,000 teachers, AtoF was developed with input from leading educational, medical and parenting experts. For more information, visit http://www.adventuretofitness.com.