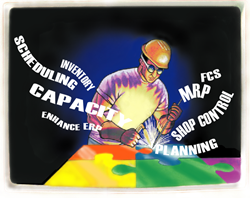 The benefits thus far are beyond what I ever thought could be achieved in this environment. - Christopher D. Gates USS NIMITZ Reactor Department Asst. Reactor Maintenance Officer
South Lyon, MI (PRWEB) January 22, 2014
User Solutions has announced immediate availability of Resource Manager for Excel (RMX) v2014.
The new version handles 900K+ rows of data for the Master Scheduling of Bills of Resources (BORs). It is further expanded to handle 1K+ time buckets for the Resource Loading Calendar per scheduling scenario, including "what if" analyses. Most compelling is RMX's ability to maintain its reputation for speedy execution (1 – 3 seconds) crunching this increased amount of data, in near real-time. This release positions RMX as an ideal Finite Capacity and Production Scheduling complement to ERP systems for operations of all sizes.
By combining affordability and ease-of-use for small to medium sized firms with powerful reporting and open integration for larger operations, Resource Manager for Excel (RMX) allows critical resources such as labor, materials and work centers (BORs) to be efficiently scheduled. End users can use their familiar Excel spreadsheet to assist them in delivering products and services on-time, reducing cycle times and inventory shortages, planning labor and level loading work center requirements, and tracking schedules.
RMX's expanded v2014 can update the entire schedule of 1K jobs, with each containing 1K entries of labor/work centers/materials across 1K time buckets (days/weeks/months) within seconds. This functionality basically represents the core engine of an MRPII system. Add to that its familiarity of being within Excel, its speed being real time versus overnight batch run and its affordability at the discretionary fund level ($1K - $3K).
The USS NIMITZ Assistant Reactor Maintenance Officer, Christopher D. Gates, was tasked with the challenge of maintaining a maintenance schedule both in port and at sea for the supercarrier of the United States Navy, and the lead ship of her class. According to Chris, "The problem I was trying to solve was level loading the over 26,000 preventive maintenance program items due on a periodic based schedule along with the immediate 5,000 corrective maintenance jobs that are outstanding. Both sets of tasks rely on common resources and I needed an easy and reliable method to level load the never ending task list, while accommodating hourly changes in priorities and finite capacity constraints. Add to that, the Navy's need for a schedule 2 years out due to dry dock and budgetary constraints and you can start to appreciate the challenges we face in creating an efficient maintenance and production schedule."
Chris reports, "The benefits thus far are beyond what I ever thought could be achieved in this environment. Short notice schedule changes are no longer an issue; I have RMX running all day and only have to edit one cell of one page to be off and running again. With this new version of RMX, long range planning is easy, quick and accurate."
Jim Convis, Product Manager for User Solutions, reported that "RMX is designed to be a flexible, planning, scheduling, and tracking tool to increase efficiencies as evidenced by its application for both production and maintenance environments. The Navy's immediate, successful implementation, including MAC platform requirements and integration with their disparate systems, is a testament to RMX's reputation of adapting quickly to the customer's environment."
Resource Manager for Excel ranges from $1200-$2400 for a single user and simply twice that price for a 5 user license. Trial versions including training videos and complete manual are available at our Product Matrix.
About US: User Solutions, Inc. was created in 1991 to help manufacturers and other operations to become more competitive through managing key resources more efficiently. Their line of products, including Excel add-ons, custom .Net applications, and Web based offerings, are designed to adapt to specific customer requirements, quickly and affordably. For more information contact: us(at)usersolutions(dot)com, UserSolutions.com Toll Free: 800-321-USER(8737)