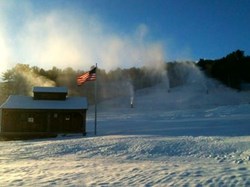 "We're ready to roll," said Shawnee Peak General Manger Ed Rock.
Bridgton, ME (PRWEB) December 12, 2013
Saturday, December 14 is opening day at Shawnee Peak, with top-to-bottom skiing and riding anticipated. The cold temperatures have allowed for excellent snowmaking conditions, and Shawnee Peak is ready to officially kick off the 2013-2014 season.
After last weekend's "soft opening" for season passholders on the Pine Quad and Rabbit Run Double Chair, Shawnee Peak has had the snowguns blazing all week to cover the mountain from top to bottom. Snowmakers have been laying coverage on The Horn, Cooley's and Jack Spratt, with more terrain expected to go online later in the week, along with a resurfacing of The Pine, Happiness is and the Rabbit Run.
"We're ready to roll," said Shawnee Peak General Manger Ed Rock. "This season is kicking off in great style, and the cold weather looks like it's going to be hanging around for a while, making for even better snowmaking weather."
Additionally, skiers and riders can save $5 off their lift tickets by bringing three non-perishable food items, which will be donated to the local food bank.
The mountain will operate from 8:30am to 4:00pm, Saturday and Sunday, with full-time operation on the way soon. Visit http://www.shawneepeak.com for the most up-to-date mountain information.
About Shawnee Peak: Shawnee Peak is a privately-owned, family ski resort in Bridgton, Maine, just twenty minutes from North Conway, New Hampshire.
With over 75 years of operation, the mountain boasts 98% snowmaking, 1300 feet of vertical drop, 239 skiable acres, 40 daytime trails and 19 lit trails for night, as well as two terrain parks.
The mountain is family-driven, affordable, and provides skiing and riding for all levels and abilities.
To learn more about the mountain and special offers, visit http://www.shawneepeak.com.